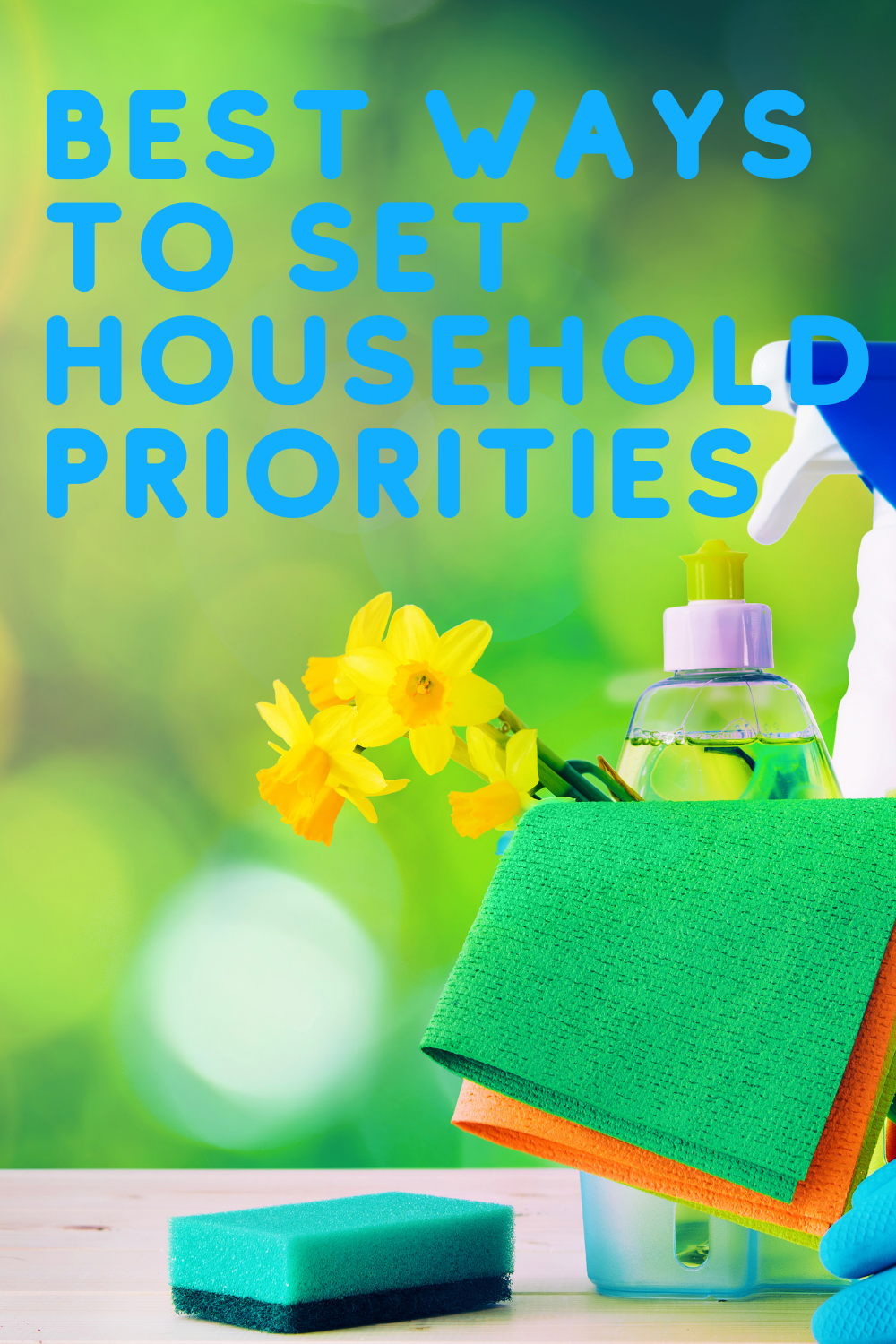 Household management tools are the best ways to run an efficient home. Finding that right way to work systems and routines important. Here are some of the best ways  that I chose to help set home priorities and implement them.  
Household Management Binder
I created this binder that holds all of the best ways to run a house and notes, ins and outs of laundry, projects, and anything household related. My menu plan list is in the binder, and church directory. 
It is not very fancy. but any could step in and see what I do on laundry day. In my household management binder I keep a medication list, doctor list and notes from the appointments. 
One section is devoted to my daily routines. I have a morning routine, afternoon routine and evening routine. What I do in those routines is simple and written out. 
Another section holds my daily focus. I have a laundry day, planning/office day, baking day, typical errand day, and cleaning day. My handwritten notes that have evolved over the year's add to this helpful section. 
Finally, I have my best ways to menu planning. In this section are several recipes. Some that I have tried and some that are new. I have the stores that are shopped regularly, and notes on why. If my husband wants to know why I prefer one store over the other he can look in the binder.
 Best Way to Set A Cleaning System
My cleaning system is made out of index cards. Pretty simple. I write down one task. More than on task to a card is a list. One task per card increases focus. No more than 2-3 cards per day. 
Create a cleaning task card for each chore in the house. Next, divide them all up between the days of the week. Task cards can also be used to set up chores system's for kids. 
Finally, for the month and year those index cards are saved for Saturday's. Usually monthly or yearly  cleaning tasks take a bit longer so I don't try to manage those during the week. 
 Create a Command Center
Everyone has a different command center. For me, mine is a chalkboard wall in the kitchen. Three reasons why: 
1. My kids can draw and utilize it to create.
2. I can look up and see my week.
3. It eliminates paper clutter, or my binder laying on the table all day. I have easy access to see what we are eating, doing, or cleaning. If one of the kids want to know what is for dinner, they can see it on the wall. 
My chalkboard command center is the quick version of my detailed binder. 
Meal planning, the daily schedule, children's kitchen chores, daily/weekly cleaning schedule and daily management tasks such as "errands or laundry" is right there for me to see.
This multipurpose wall has been a conversation piece for many who have come to visit. I like it because As I check my day in the morning, I can see what is for dinner, what needs to be done, and finally, my cleaning schedule.  
Follow me on Instagram @momsarefrugal to see my daily life in homeschool, homesteading and homemaking.