Homeschool supply and manipulative organization allows the year to start off right. Kids lose focus when moms are searching for what they need. Each time that I would sit down with my third grader (last year), suddenly I would need something to make a point. Searching costs time when teaching.
Start the year ahead. Baskets, label makers, carts with shelves, and bags with pockets make the organization process easier. Supplies also can be included in the organization.
No more just throwing needed items into a basket, and hoping for the best. Take inventory of all the supplies and manipulative needed and used for homeschool days.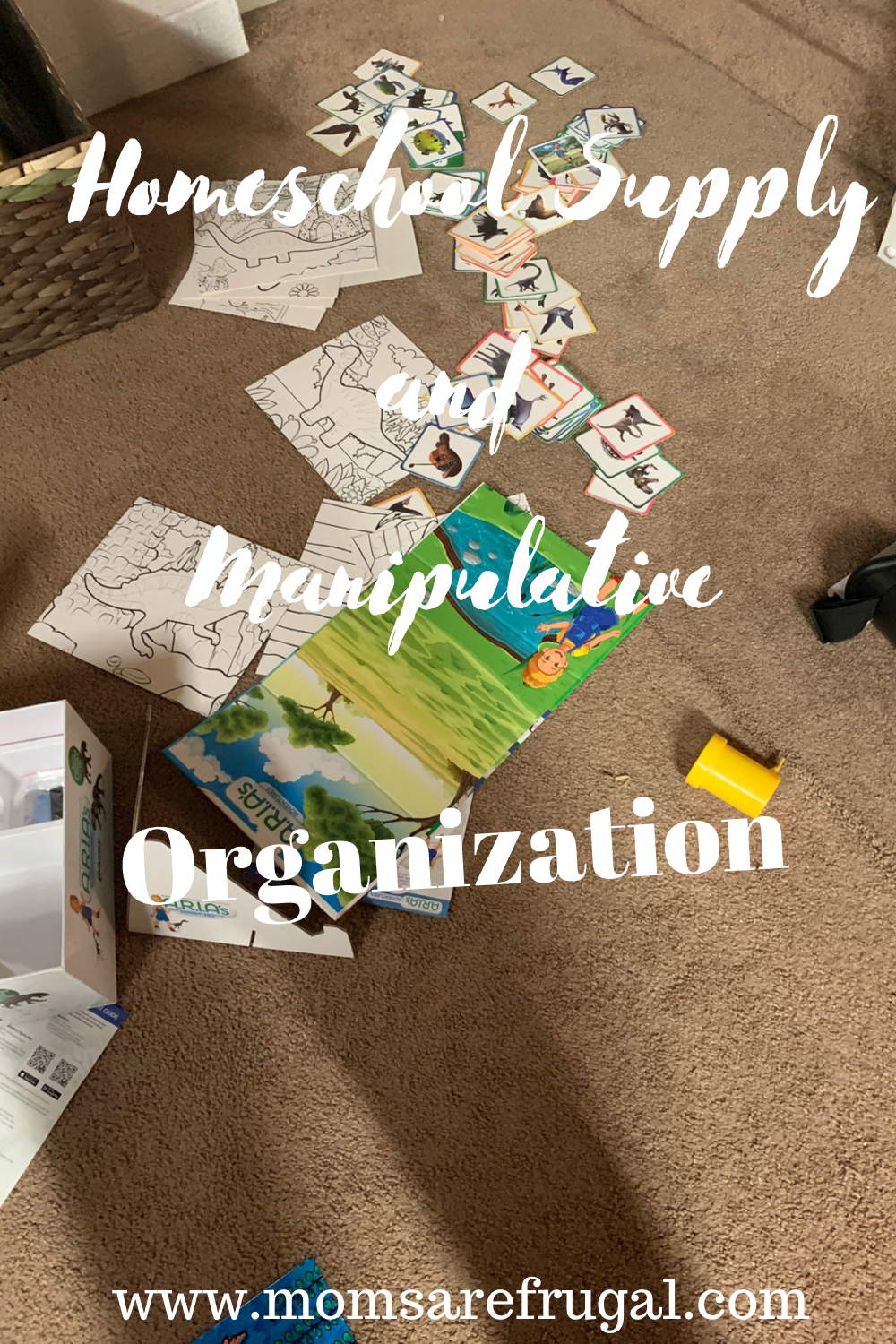 Organizational Ideas For Planning The Location
Sort, Sort, and Sort. Sort first. Location in the homeschool room should be convenient.
Ask yourself the question…what do we use most daily? This will put the plan into perspective.
Rough draft the placement of the supplies and where they will go in the room. Sometimes seeing the whole picture on paper will help the process go quicker.
Tips for Organizing the Manipulatives and Supplies
Match all of the baskets. The room will feel more organized with matching baskets.
Ziplock baggies. All sizes. Ziplocs help with keeping pieces and parts together. On unorganized days these were thrown into the drawer and many were lost. Thus, new ones needed to be purchased adding to the budget.
Binders work great for maps, loose papers, ABC cards, and writing sheets. Label as many as needed. Plastic cover sheets are a great help too and can be used with dry erase markers.
Plastic travel wipe holders are great for holding post it notes, or crayons. Travel wipe containers are portable and handy. Crayon boxes are great for hot wheel cars. Necessary supplies and items for preschoolers will make transitioning activities easier.
Project organization
Putting all of the supplies and manipulative in their new homes does not need to be an all day task. Each day take one basket or box, set aside 15 minutes to label and sort into the appropriate basket. Add them to the correctly labeled new basket and……Bam!
The solutions listed above are ideas that worked for my homeschool setting, and continue to work for now. Feel free to email or comment ideas' that you have used to organize your homeschool manipulative and supplies.
Signup for my newsletter to get more information on frugal living, homeschooling and more!