Cleaning during the summer happens more often because kids are coming in and out a lot more than usual. Having a summer routine for cleaning will help. It may not be as good as during the school year, but something is better than nothing. The summer cleaning does not have to take all day or have a list too long to complete. During the morning routine when the day is being planned jot down 1 or 2 things that need to be cleaned that day. Then do that for each day  to have a complete week of necessary chores to finish daily. Just like meal planning cleaning also has to be planned.
Summer cleaning has to happen more regularly the best time of day that you are full of energy.   Morning time is my best time to clean because I am just starting my day, and I want the hard jobs out of the way before it gets hot. Setting up my cleaning schedule for right after breakfast is the best time for me to get the housework done.
When setting up time for the housework daily 30 minutes is a good number to start with. 30 minutes a day for cleaning allows the area to be quickly cleaned and then put away until next week. Consistency is the key factor in keeping the house clean.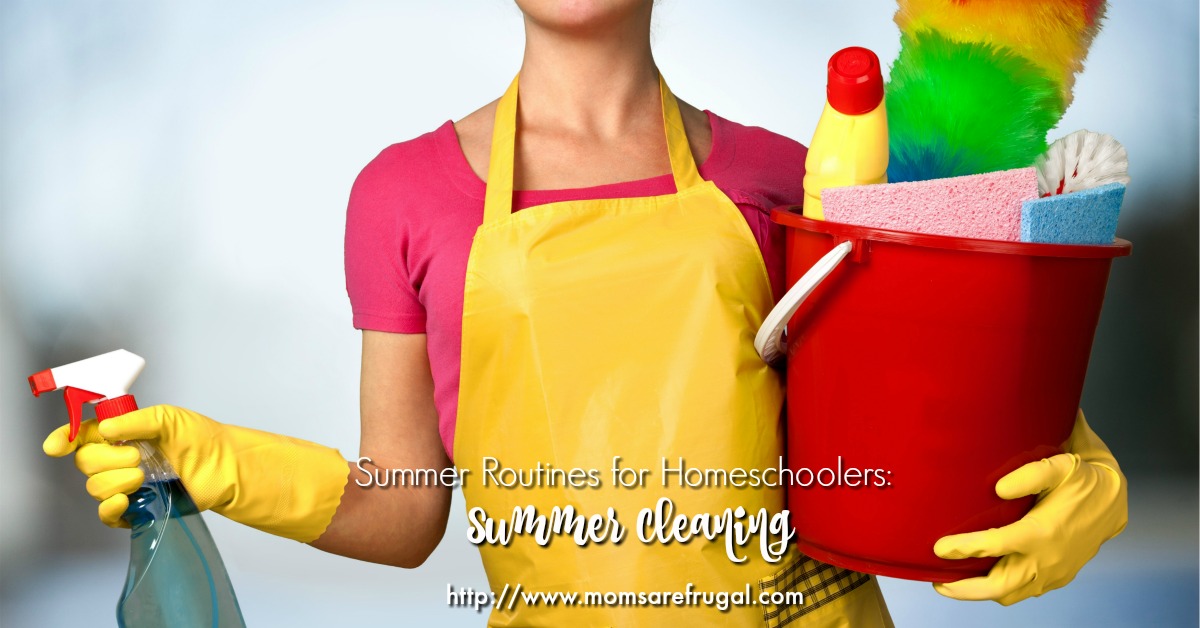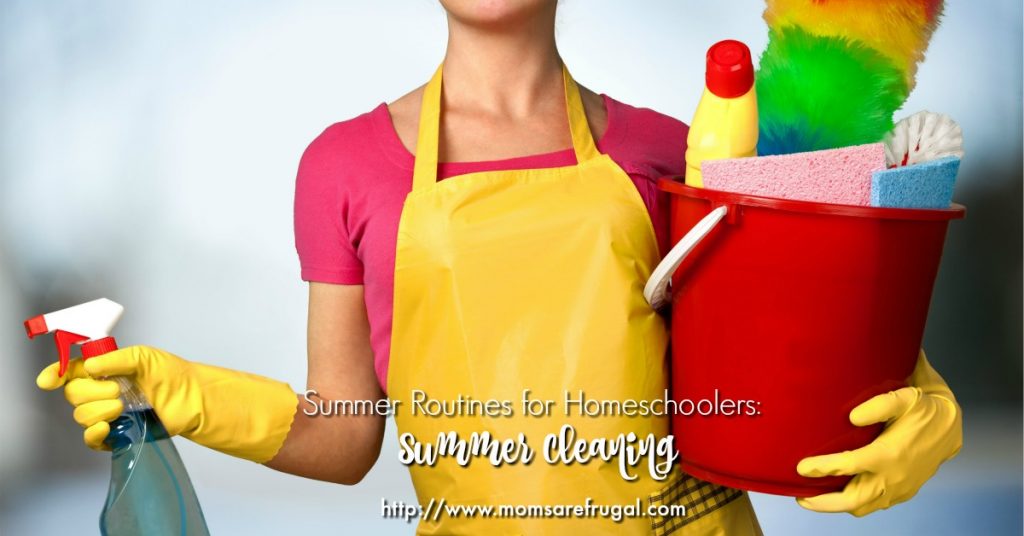 Setting Up A Cleaning Schedule
Setting  up a consistent summer cleaning schedule helps to stay on track so that each time, on the same day, at the same time the same room will be cleaned. This is important for two reasons: The first reason is so over time cleaning in that space will get quicker and easier. Number two reason is to help keep the room clean. If it is not touched again for two weeks, then that breaks down the efficiency.
A good way to set up a cleaning schedule is to do a few things in one room daily. Then the next day go to another room, but remembering that the room hit on Monday always has to be hit on Monday. This consistent schedule will help to keep the rotation working and the home clean.
Daily
Daily  objectives are not meant to be extensive or deep. Save the deep cleaning for later. This is a light touch up so washing the curtains would not be a good choice. When choosing what to clean daily think about what bothers you when you enter into the room. Is it the bed not made, or clothes on the floor? If these are some of the items on your morning routine then add something to clean the room a little more such as dust the end table, or clean the mirror  in the bedroom.
If  the bedroom on Monday is the choice for that day, only choose 3 quick things to focus on. Remembering how to clean your home daily is important. This is a daily touch up. In time the daily touch ups will lighten the load for the monthly cleaning. The important goal being……everything thing will get easier to clean over time. Time management and consistency will take hours out of the job.
Weekly
Weekly is more detailed than daily cleaning. Knowing what to clean each will takes out most of the guesswork. Make a list. A weekly cleaning checklist creates consistent habit forming behavior. Habits of cleaning are important.
Depending on the size of the home, how many stories, bathrooms, bedrooms and other rooms in the house this may take two or more hours. Consistency is the key again.  In the event of vacation, illness, or just needing a break hiring a professional company is a good idea. This helps to keep the home clean, and keeps everything on schedule. I can't stress enough to stay on schedule…this will take discipline.
Summer  is a little bit different because some area's may be more dusty, floors more dirty, or the stove not as dirty because of cookouts. For proper cleaning a good list for summer and winter will help the high traffic areas' stay cleaner. On the list needs to be a variation from each room with a rhythm too keep the entire house clean.
For example: Clean bathrooms first, then kitchen, dust then vacuum and mop. Always do the hardest area's first. It will cut down the  time in the home.
You don't get anything clean without getting something else dirty. —Cecil Baxter
Monthly Deep Cleaning
Choose a room, make a detailed list of what needs to be cleaned. Then add that room to the monthly rotation. Bathrooms always need to be more organized, they get dirtier and baseboards are always ignored. On the monthly list needs to be all of the items not included in the weekly cleaning. Cleaning the fan, light fixture, shower curtain or organizing the shampoo bottles, and makeup will be on the detailed cleaning list.
At the end of the monthly list should be the bedrooms because those are easier and get dealt with everyday. Adding in decluttering to the monthly list for each room will help to keep it more organized. Then in December when the decluttering bug hits your home is already done.  A note on decluttering: if one item comes in, then one of the same item goes out. As I tell my kids if you want a toy then you must put a toy in the goodwill bag.
Summer cleaning will help keep your sanity and the home clean. I have created a printable to help keep the cleaning tasks organized. It is a household planner to be put in the home management binder. It will be coming soon so look for my post introducing it!
Many times we don't know where to start, and before my adventure owning a cleaning company I was the same way. Knowing and working to clean your home fast because you are a busy mom will create in you the desire to keep your home clean.  A plan always helps to get something started. How many times have you looked around your home and wanted it to be more clean?
Cheers,
Michelle