Strawberries have to be one of the best fruits in the summer. The red color attracts attention, but when they are bitten into, the juicy sweet taste follows. For those who have never tried a strawberry, it is truly delicious.
Strawberries were on my list of new frugal gardening adventures to test. I knew they would be a delectable treat for my kids in the coming years.
Every frugal gardening has to have a strawberry patch. These plants are hardy, come back each year, low maintenance, and can be frozen, canned or prepared desserts. Such a versatile fruit has to be a part of every frugal gardeners plans.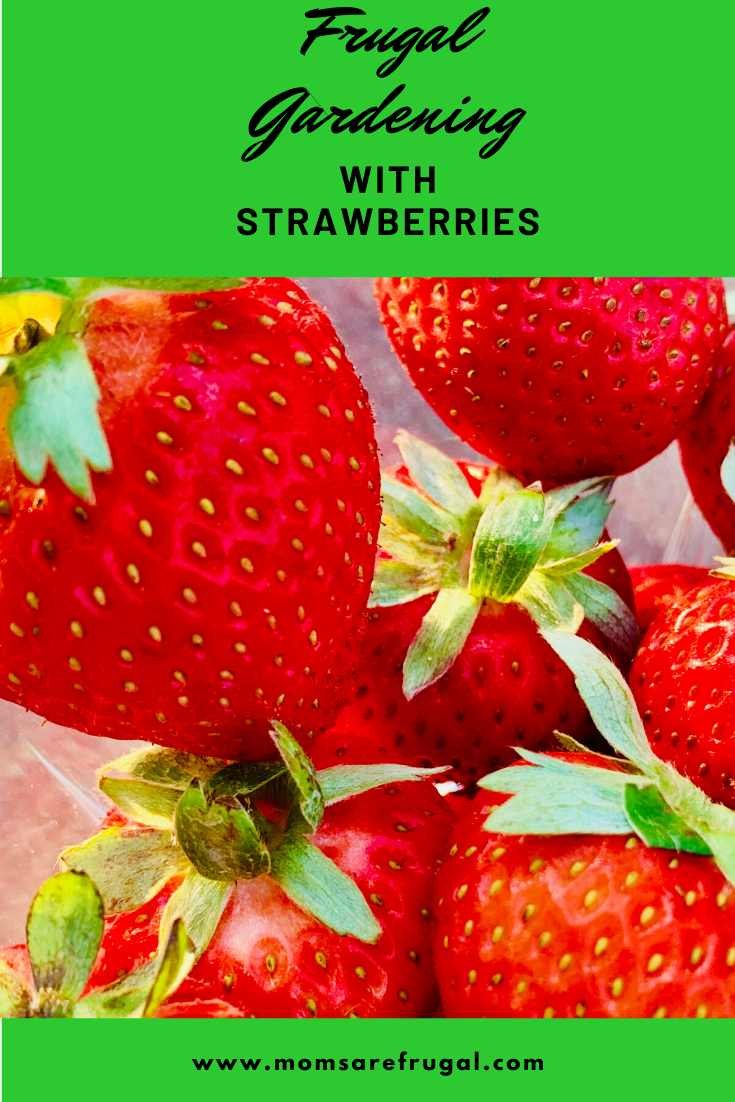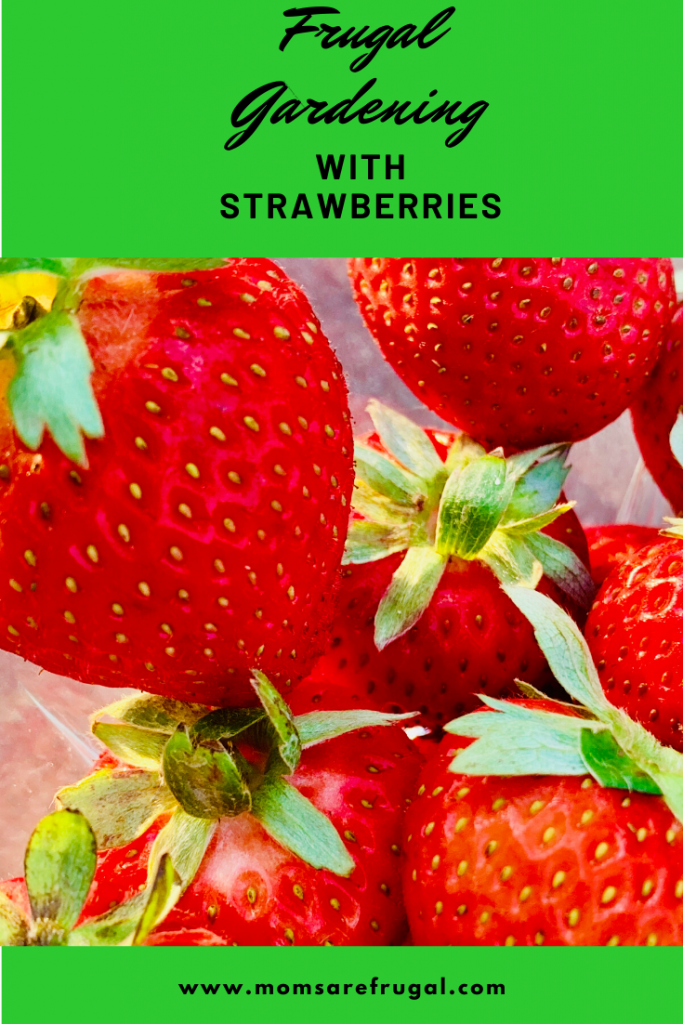 Choosing annual or perennial to save money
Perennial plants will come back each year. For frugal gardens that is a huge win. Not having to buy something and re-plant each year like many vegetables saves. Perennial plants will survive the winter. Strawberries plants grow in hardiness each year, so the benefits are many.
The benefits of perennial plants outweigh annual planting in a few frugal ways. One, they save on energy. Two, they have more established root systems so weeding is cut down a lot. Three perennials save on water because their root systems will hold onto the water in the ground.
Several years ago I planted strawberries. Back then I did not know what I was doing and my time was limited. My frugal idea of planting this wonderful fruit was that I would have strawberries that came up every year and we would eat them.
So far that plan has been a failure. I did not realize in my haste that I had to get a plant that grew normal size strawberries. I must have gotten a miniature version because the berries we get are incredibly small. It takes about ten of these little strawberries to make one large berry.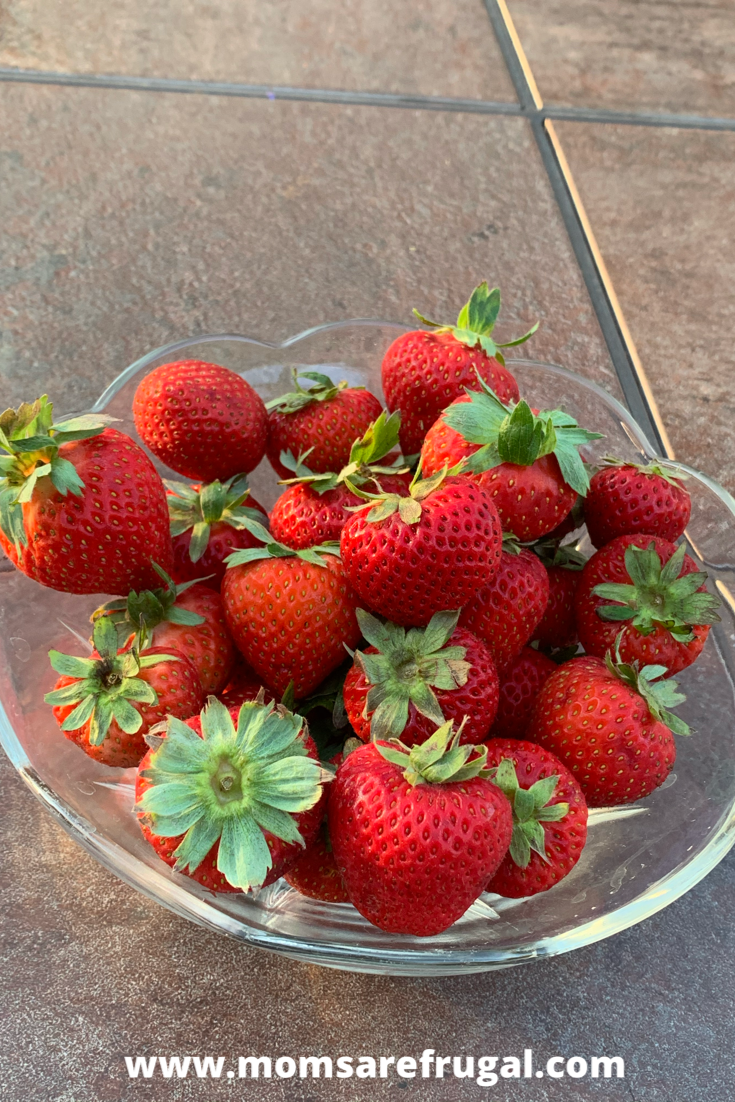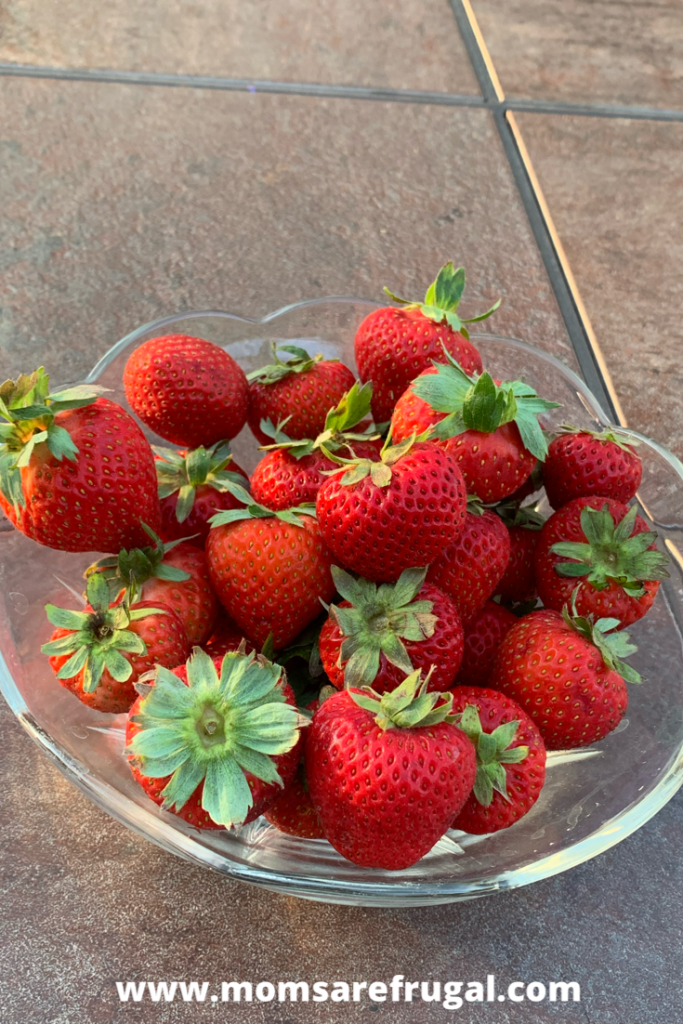 In my haste, I wasted time and money because I thought this was a low maintenance plant. Low maintenance doesn't mean it will be what is needed in the strawberry patch of a frugal garden. Make sure before spending money on something that the fruit harvest will be to your expectations.
When choosing plants verify they are what is needed to be an asset in the garden.
Frugal garden plants
When planting strawberries add in some mulch or straw. As we plant we have found the straw holds water better for us and works well for drainage of the soil.
Weeding only takes a few minutes a day to check and make sure the plants stay weed free. Not having to survey a large area helps with weeding, and just doing a little each day keeps it simple.
Growing a larger harvest with less time and expense is a dream. Yielding a harvest that is bountiful without a lot of effort saves more than it spends. Frugal people love that part.
Strawberries are a frugal garden dream because they are ready 4-6 weeks after planting. Planning the harvest is the next step.
Frozen or Preserved Strawberries
Strawberry jam is my favorite way to eat biscuits. I really do not care for any other type of jam or jelly, but strawberry wins the award. Part of frugality gardening is planning on what to do with the harvest. Selling at a farmer's market, eating it as the fruit or vegetable is ripe, or preparing for future use.
Two ways to prepare strawberries for future use is freezing them, or making jam. If your wanting my vote, its for jam. Freezing strawberries is sort of a simple process. Preserving strawberries to make jam has a few more steps.
Now that I have planted new strawberry plants hopefully next year I will have a bountiful harvest. My jam making supplies are all ready to be used for one of my favorite canning projects.
Growing what you love makes the work easy. I love to eat strawberries and had to have them in my frugal gardening plans.
Follow me on Instagram @momsarefrugal for more adventures in the frugal life of homeschool, homemaking and raising boys.