Spring break is not a vacation time for us. Where we live the weather is also not great. Planning frugal home spring break activities for preschool is challenging. First, preschoolers get bored REAL easy. Second, we strive to take a long vacation over the summer, so our spring break is a staycation. Third, we homeschool, so I have a list of cleaning chores to catch up on before school starts again.
Over the year's with four boys I have become better at planning our a fun spring break. I try to plan at least an hour of fun each day for all of the kids', catch up on cleaning and try to get in some reading time for me.
Here are a few of the frugal home spring break activities we incorporate: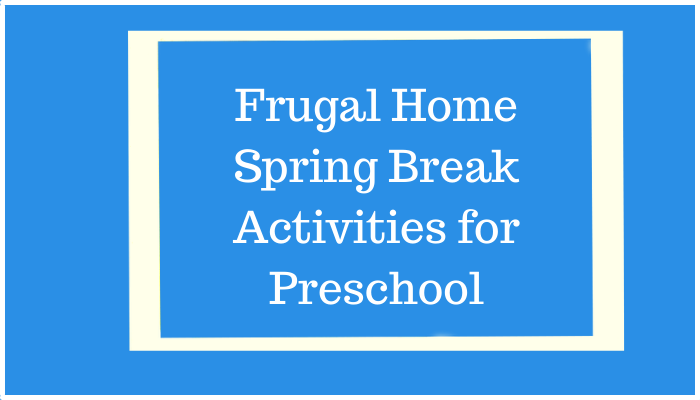 Crafts or Science Fun
Boys' are more rambunctious, adventuresome, attention getters, which translates into active crafts or science projects. Volcanoes are fun for preschoolers. Easy quick science project that is not too messy, but holds a preschooler's interest.
Crafts that are engaging and can be used as a toy work perfect. Usable crafts serve a dual purpose. Therefore, we make catapults, slides for cars, and cardboard boxes for puppets.
To make a cardboard puppet you will need:
Stickers, cardboard( cereal boxes work great), craft stick and scissors.
To create a cardboard puppet:
Step one: place the stickers on the piece of cardboard. Space them out slightly to allow for cutting.
Allow the preschooler to try and cut around the cardboard backing. If they have trouble, ask if they would like your help. Sometime my preschooler preferred to work alone. I allowed it to give him confidence in his abilities.
Finally, glue or tape the craft stick to the back of the sticker. Homemade puppets are a lot of fun for preschoolers.
In the past on frugal home catapult system was a small block, craft stick and a small toy or marble. using different techniques and ideas to create the catapult was fine. One time, we dropped something onto the stick to catapult the toy across that table. Incorporating ways to try new things is fun, and a little messy.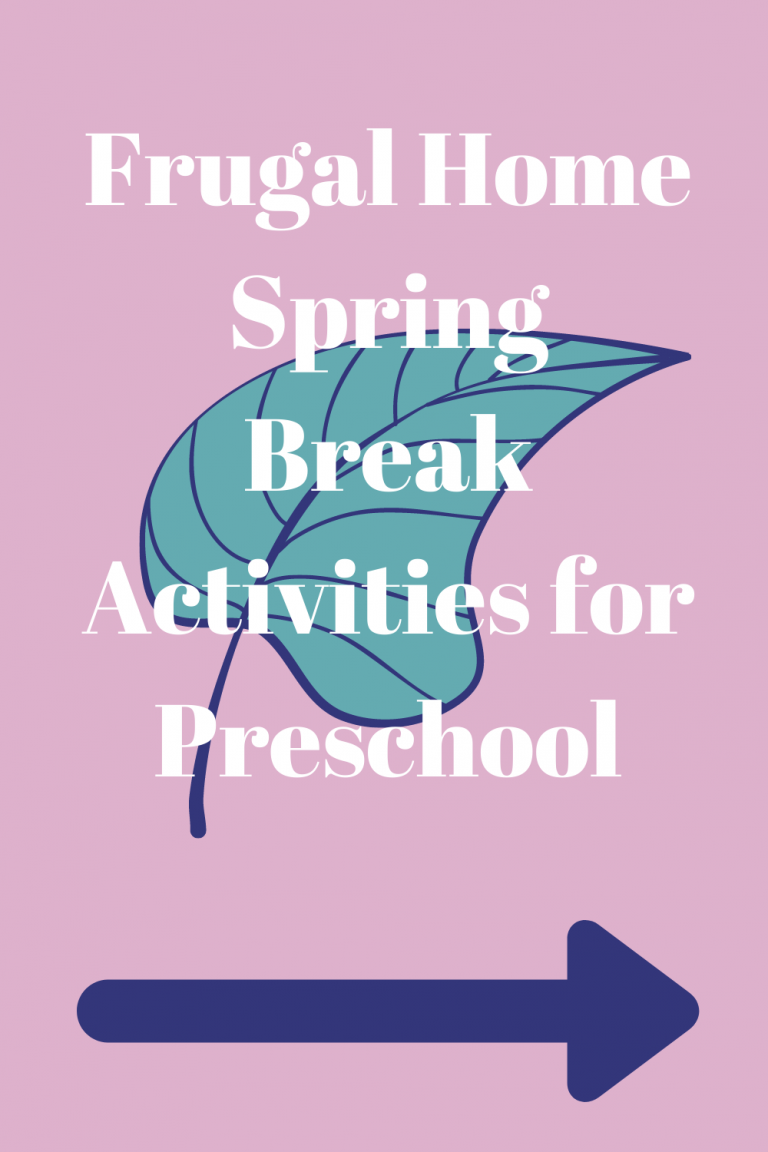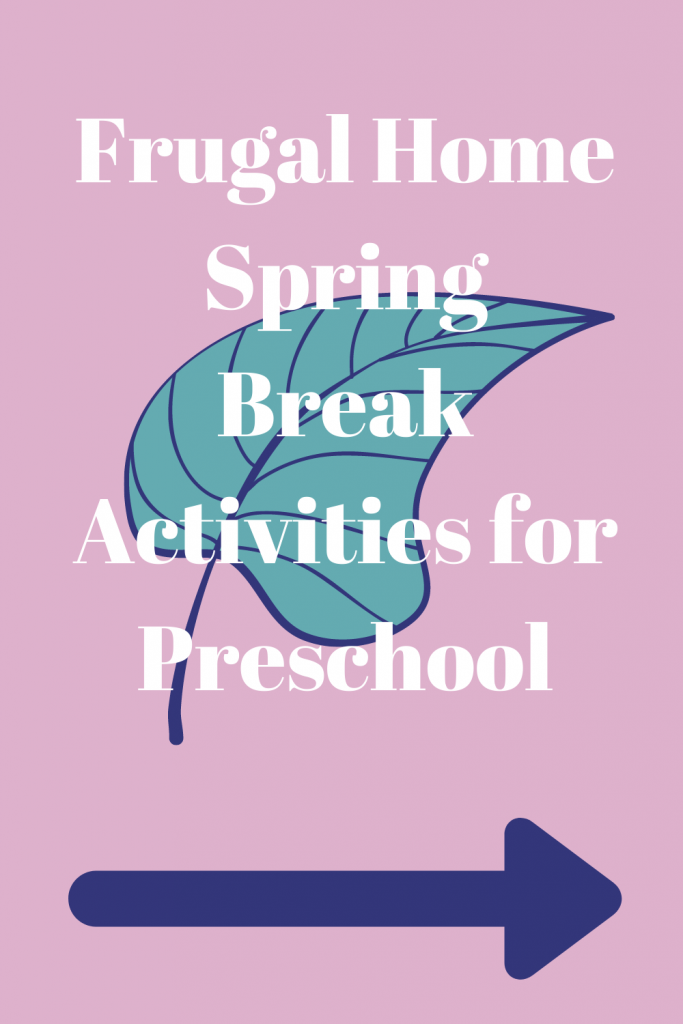 Frugal Home Spring Break Games
If you follow me for awhile then, you know that I love to make up games. Any kind of games that are safe, fun, and do not take a lot of time to set up. I keep a box in our homeschool room labeled "group time". In this box is an assortment of game ideas.
I have a beach ball, cups, soccer cones, dry erase boards and chalk. There are other items in this tote too, but I will save that for another post. Since I work continuously on most staycations at home to get caught up, I reserve the last hour before dinner for game time. This is when I bring in all of the kids for some fun. Most games are easy or adaptable for my preschooler.
One game that he loves is the beach ball game. This game is really easy. Using opposites, like items, places, cities, toys, disney or whatever will work. For instance, I would say "I have fur and live in a cold place". From this they would guess whatever animal they think I would be talking about. The correct answer is "polar bear".
My preschooler loves this game. I use tv shows or trivia on his level. Throwing a beach ball around the living room with a bunch of boys get rowdy. Advance warning to move the furniture!
My goal with our frugal home spring break activities is to do something fun, memorable, and cost efficient. Price tags are rising daily right now, so if you can't go to Sky Zone or Chuck E. Cheese, imitate these places at home. Do the best you can, but duplicate games or whatever it is that makes those kid focused places fun.
Pinterest has been my go to place for ideas when I fall short. At the end of the day though, all of the games, books, breakfast making and crafts can't take the place of mommy time. Preschoolers love to just sit and our their ideas out to mommy.
Making Breakfast with Your Preschooler
Homemade pancakes is an easy food for preschoolers to make. First, we lay out all of the baking supplies and utensils. Next, we read a simple pancake recipe. I read the directions to my preschooler then ask him what I read. This reinforces his listening skills.
Together we find the correct measuring cups and start the recipe. We have a griddle that use for pancakes. Each time before I allow him to pour the pancake mix we talk about safety procedures.
Frugal home spring break activities are created around our normal routine. Therefore, since I have more time on a break, that's when I allot time for the kids to help with meals. My focus is on helping them and creating one on one time
Nothing in the world is more fun on a spring break for preschoolers than to cook with mommy. My youngest loves to feel big and important. He is pretty good at fresh, hot, yummy pancakes.
I love to plan stuff for my kids. I know that my last preschooler is my last so time is precious. One way to hold on to a really fun spring break is to take pictures. Have your preschooler help you put them in a special album with their name across the front.
As you put each picture in the album renew all of the fun memories of the week. This will be one treasured spring break that keeps giving.
For more posts on the key to the frugal life in the suburbs subscribe to my newsletter.