Gardening is a frugal hobby. Gardening should not be expensive. Saving money by growing vegetables in the backyard is easy. Buying someone else's plants to save time costs money. Gardening is a self sustaining hobby. The way to save money in gardening is to become an expert.
Education in gardening is the first step. Using frugal seed starting tips from others who have made mistakes is the best way to learn. Before I started a garden, for many years helped my parents in their garden. Learning from their mistakes or successes helped me in my first year of gardening.
In the past few year's I made a few gardening mistakes. Mistakes that cost me money. Today, I would like to save others from my mistakes. Here are a few ways to save with some frugal tips I have put together. Seed starting is easy, but does require attention.
 
Seed Starting Supplies
There are several ways to save with seed starting. Using recycled materials such as carryout containers (clean ones), cardboard boxes, homemade newspaper pots, plexiglass, reusable plant containers, storage bins.
Paper towels and ziplock baggies have worked for me also. I purchased some large bags of potting soil to have on hand at a sale price. Storage containers of any size work well. The really deep ones allow for tall growth, but the shallow storage containers also work well.
I did have to buy a few storage bins, but they worked perfectly. The storage bins work as a greenhouse and are tall enough to allow growth for the plants.
One more positive aspect of the storage bins is the fact they allow for easy mobility. I have to keep my bins in the garage, and on sunny days transport to a table in the sun. Storage bins are easier to tote around.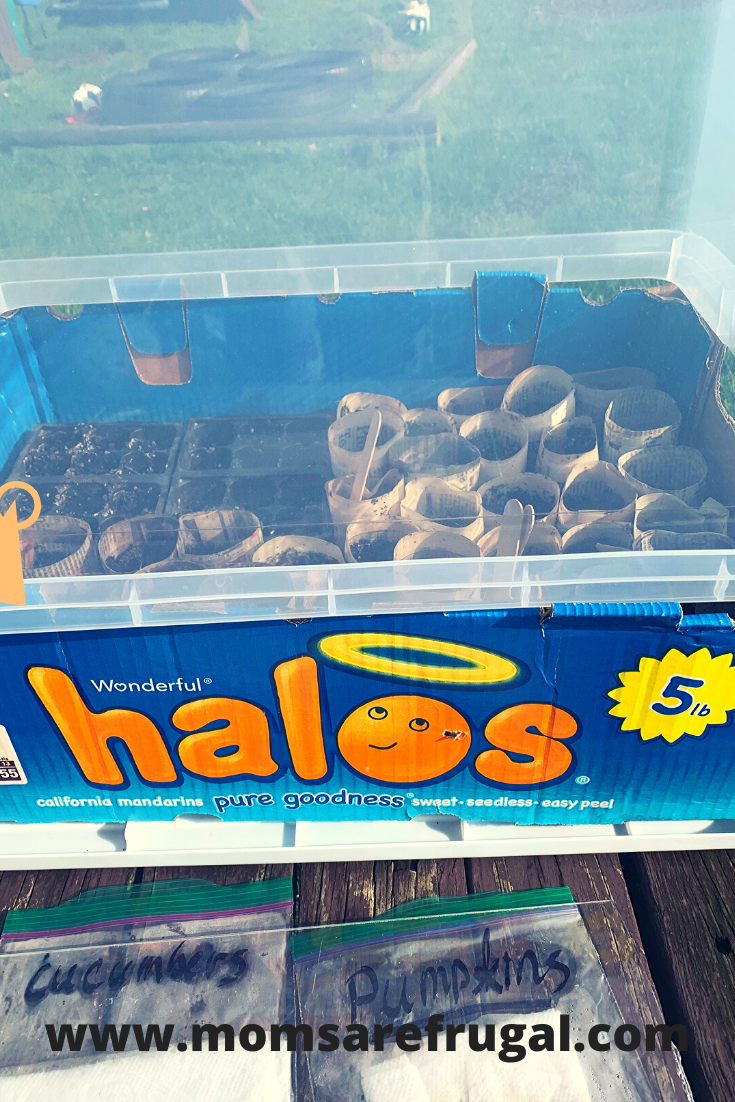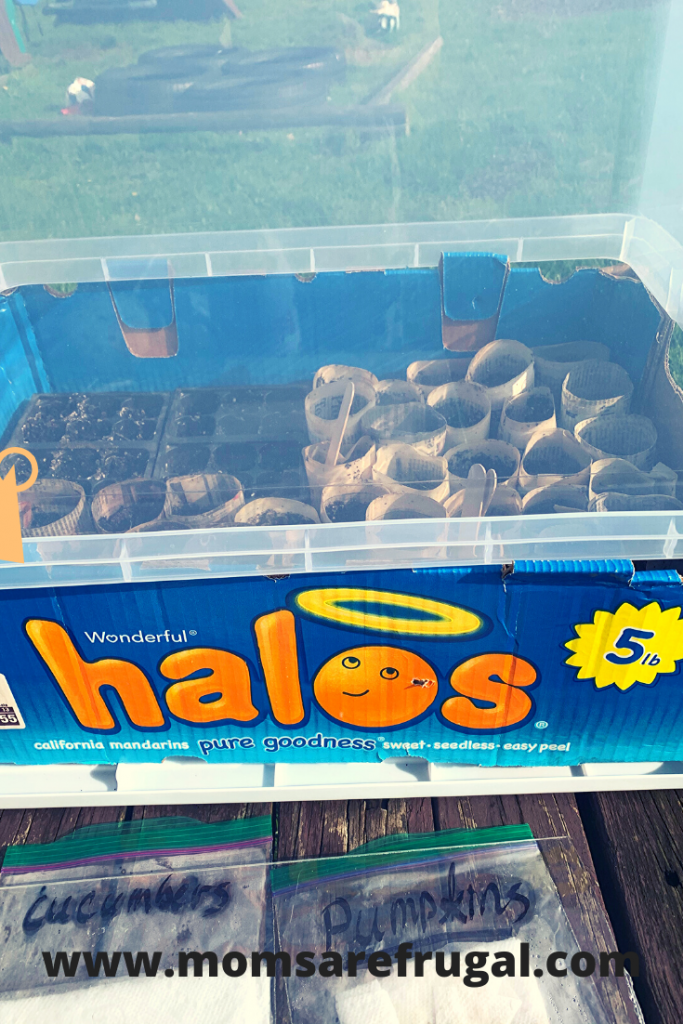 What to Grow
Seeds are easy to start the growing process. First, check the back of the seed packet. Some packets say they are able to be started indoors. Those are the ones that I use for my seed starters. Maybe more experienced gardeners can use any plants indoors, but this is my first year to try this experiment.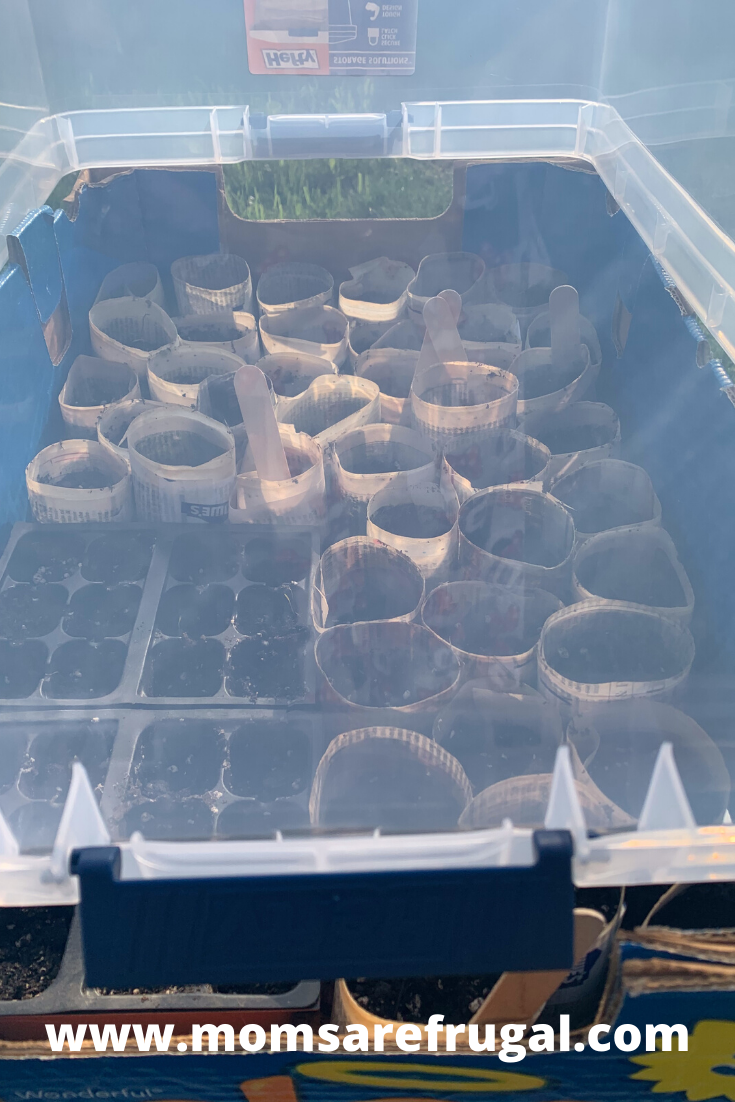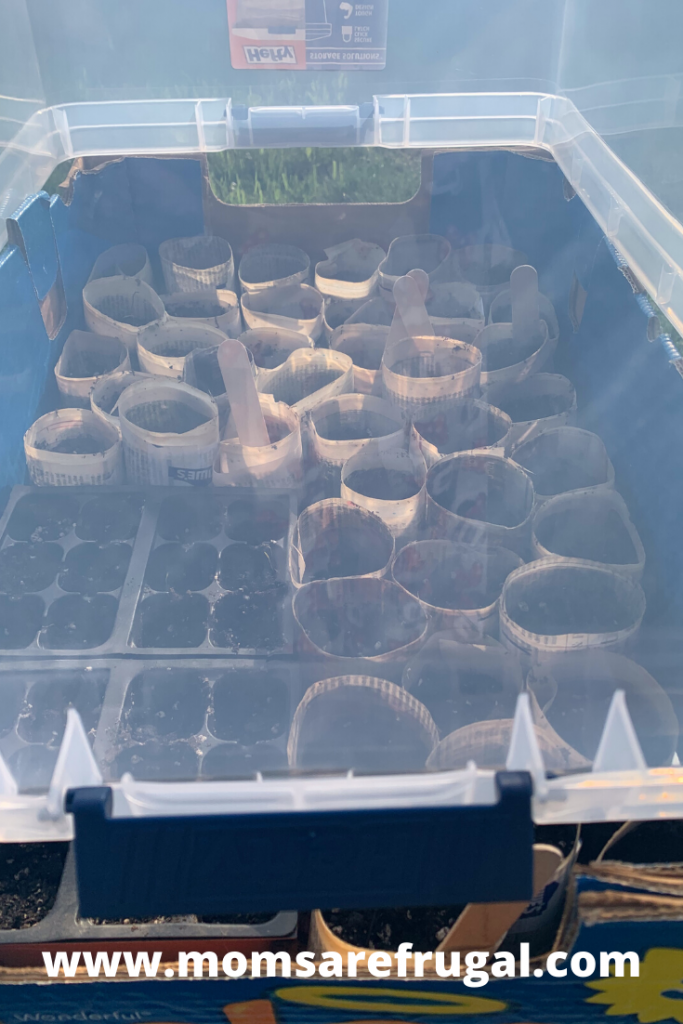 I watched a few video's on ways to start seed indoors, and this way seemed to be the most cost efficient. A box of sandwich sized ziplock bags and a few pieces of paper towel was all that was needed.
The first step was to label the ziplock bags. Tomatoes, zucchini, pumpkin seeds and carrots were the focus.
Number one seed starting frugal tip is reuse or recycle. I did see how this could be done with a washcloth. My first try needed to be successful, so I used paper towel.
Next step after labeling is gently placing the seeds on the paper towel. Then spray the paper towel with a gentle spray from a spray bottle. Any force will cause them to scatter.
After wetting the seeds gently, fold over the paper towel and place in the correctly labeled ziplock bag. For me, alternating the seeds from sunlight to dark. If we have sunny days I take them outside. At night, they are brought back into our sunroom. The idea of purchasing a heat pad has not been a necessary expense.
My goal is to keep down expenses. My garden is supposed to save money, and I am sure early pioneers did not use heating pads.
When to Plant
Planting will happen when the plants are tall enough and strong enough to withstand the weather. Our location is in the midwest so every summer is not the same. I do follow the instructions on the package, but if we are having a really rainy season waiting a few weeks might be the option.
Whatever the reason for a desire to start gardening, whether it is saving money, wanting to learn a new hobby or pastime, or lead a self sustaining lifestyle it shouldn't be more expensive. Buying plants from retailers is expensive. For a few years I fell into that trap. I did not know how to start seeds on my own and so I went and bought plants from a nursery.
No more will I buy from a store. Journaling each year and following my new frugal seed starting tips is going to keep gardening from being an expense. Follow me on Instagram @momsarefrugal for more adventures in parenting, homeschooling, and saving!