This year I decided to try indoor gardening. Since we are under a quarantine, and I cannot leave the house this project is worth trying.  Moving forward, I did not want to spend a ton of money or go to the store to buy a supplies. After much research, I discovered newspaper pots. Newspaper is plentiful in this house. Recycling is one of my favorite hobbies next to reading. I don't like to waste so therefore, I have a lot of newspaper. After watching several videos I decided to try this project.
First, I made a list of supplies. Using what I had on hand saved a lot of money. Like most frugal home ideas this one did had little expenses for the project. Being under quarantine has limited my access to stores, because at this time they are only selling essential items and limiting customers. As far as projects go, this one eliminated a lot of unnecessary shopping.
Next, I went to the store only for my few supplies. I purchased exactly what I needed which was: Three  large bags of potting soil, and seeds. After that, I grabbed a handful of newspapers, a 2 in.  piece of pvc pipe, and a closet rod cut to 6 inches.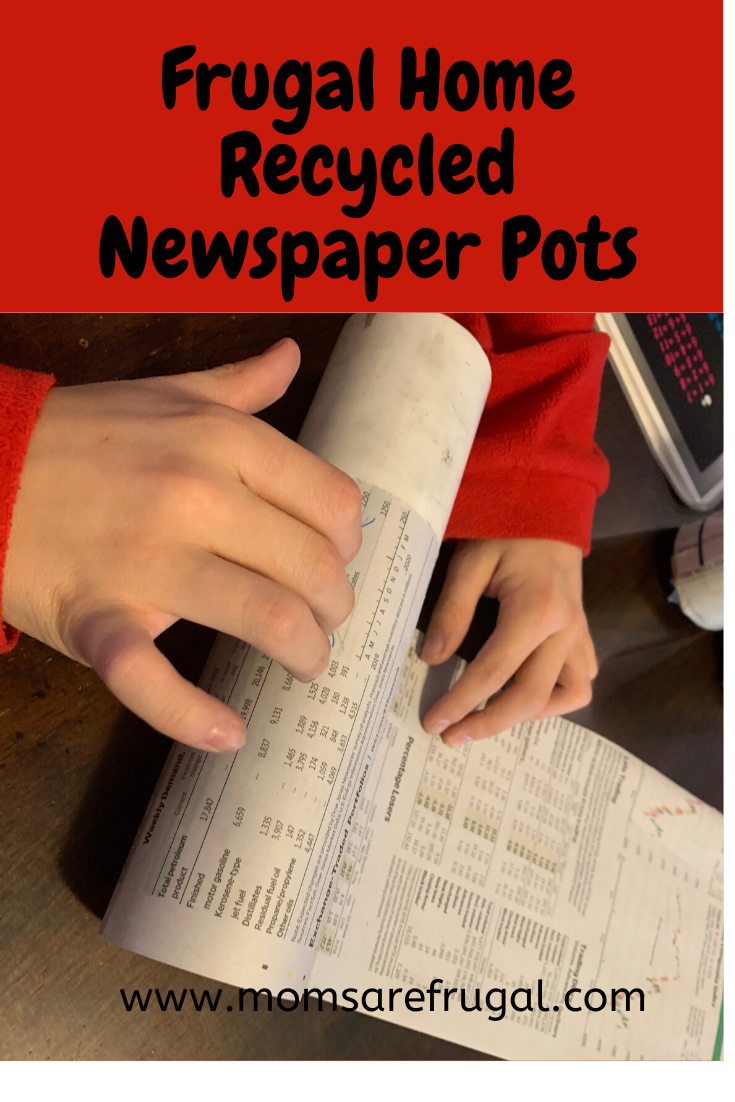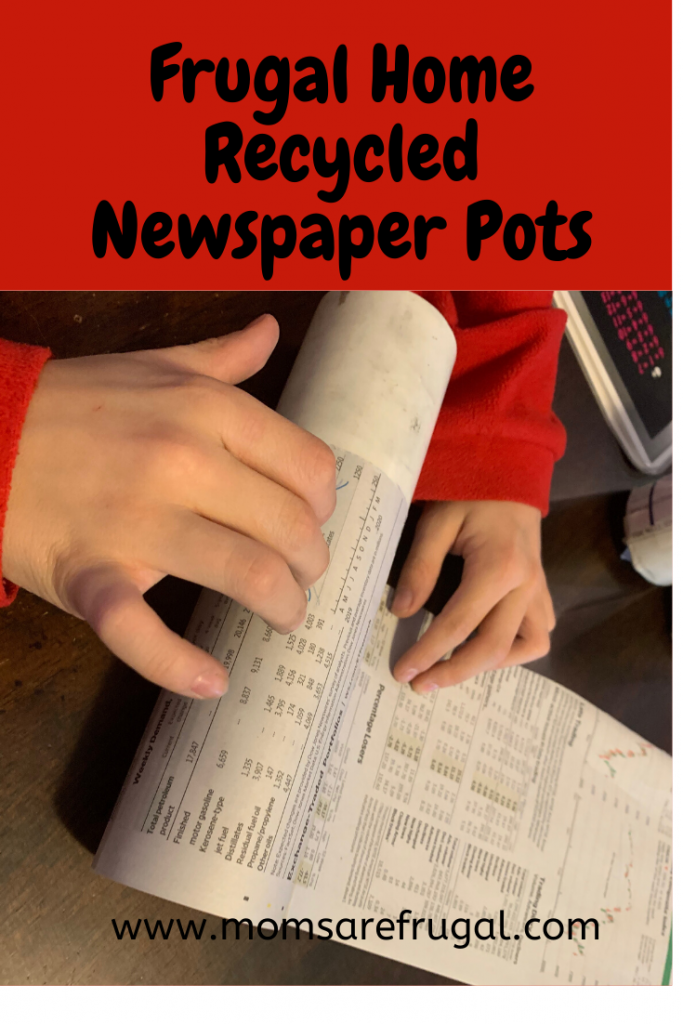 Creating the pots
Step 1: Cut newspaper long from one end to the other. Single cuts.
Step 2: Roll up using the PVC pipe. At the end of the strip, press the bottom part of the rolled newspaper into the pvc pipe.
Step 3: Use the curtain rod to pound gently on the bottom. Check for firmness. Anything loose can cause problems.
The last step is easy, check the pot. Place a small piece of tape on the side. This will help it too hold it's shape while watering.
All of the family chipped in and made 40 pots. 40 pots to my seeds.  The weather was a bit colder and the forecast looked to be the same for several weeks. My initial plan was to set them outside until planting time. Instead, I put all 40 plants in a long cardboard box with a piece of plexiglass over the top. Where we live the weather does not get warm until the end of May. In ground garden planting happens closer to the first of June.
All plants had to be watered. Using a milk jug I gently watered each plant. Not too much so the seed would be pushed to the bottom, just enough to get the plant wet. Finally, I place the plexiglass over the top and placed them in our garage close to the window.
All in all this was a great, inexpensive project that will hopefully yield some great plants to start off the gardening season.
Recycled Newspaper Pot Supplies
Newspaper  (cut into long, narrow strips)
PVC pipe
Curtain rod (cut to 4 or 6 inches)
Small amount of tape to keep pots in place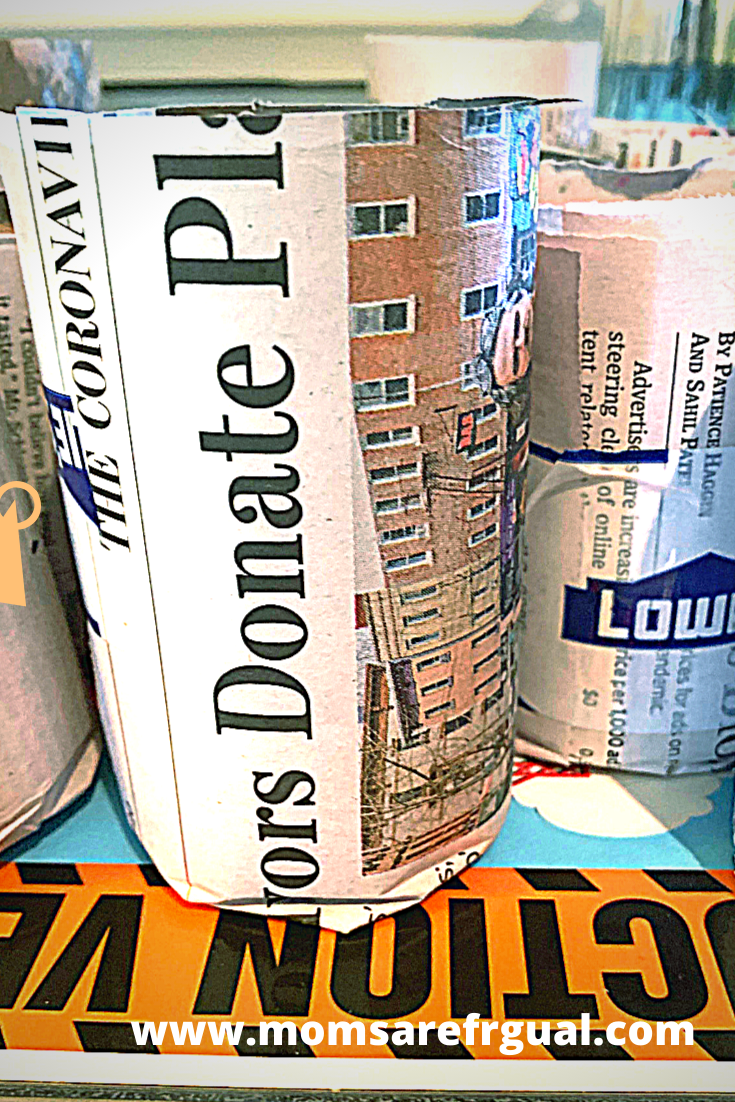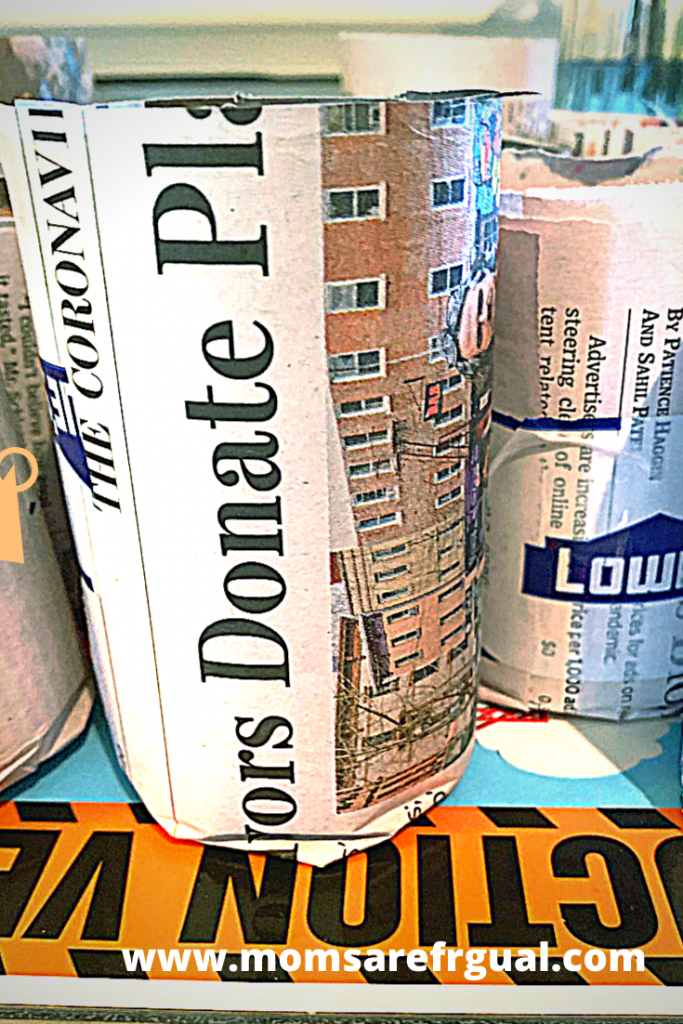 Why You Should Choose Recycled
Recycled newspaper pots are an easy project for savings.  Using this kind of a homemade pot vs. plastic seed started is more beneficial. The plants do not have to be removed to plant. Newspaper breaks down in the soil and therefore works well for seedling plants. Garden planting is easier.
Also, newspaper is easy to use, find and cheap.
Follow me on Instagram @ Momsarefrugal for more everyday adventures in homeschooling and savings.