Kids love to give gifts. Kids love to make gifts. Mothers' love to receive gifts from their kids. I don't know about you, but I cherish homemade gifts from the heart more than store bought. When it gets close to Mother's Day I will print or email ideas' to my husband. Nothing flashy, or store bought.
Mother's Day is the perfect time to make a memorable gift for mom. The years between birth and adulthood go fast, but pieces of the time in between, help us to hold them in our hearts as babies forever.
Mothers' Day is approaching soon. Choose a few activities and make it the best Mothers' Day ever.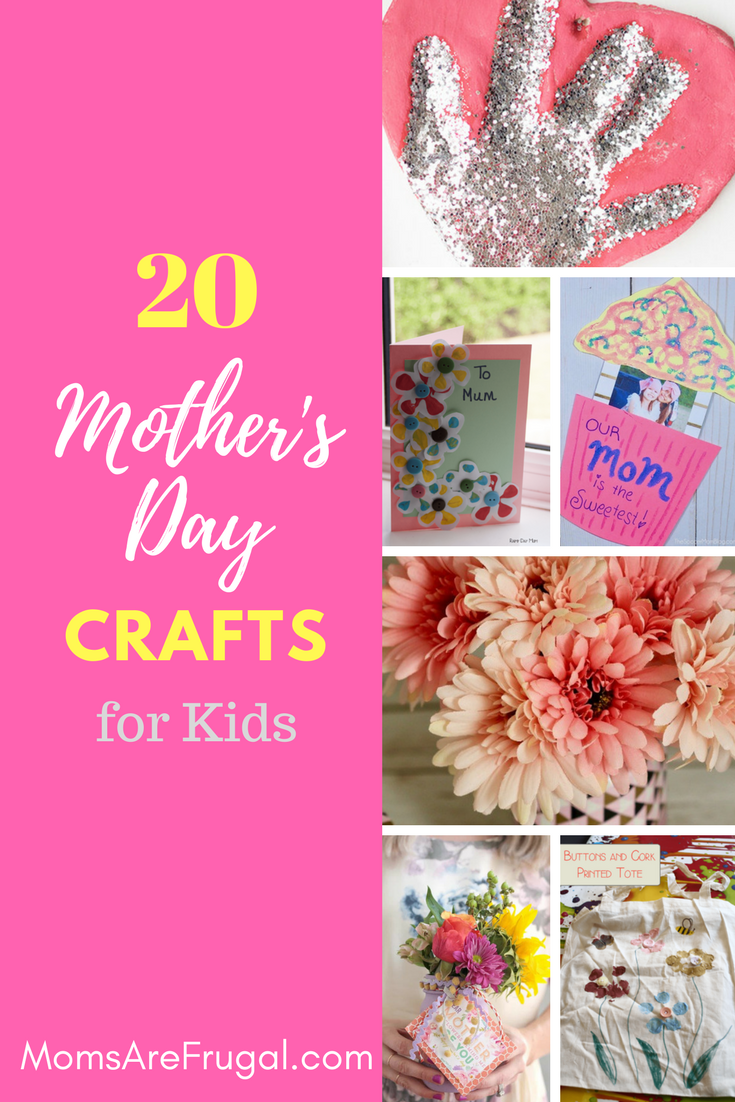 Mother's Day Activities for Kids
DIY Tin Can Flower Pots from Consumer Queen
Cork Printed Flower Tote Bag – Creative Gift For Mums from Rainy Day Mum
Duck Tape Spring Mason Jar Vase DIY Craft from Confessions of a Mommyaholic
Mother's Day Craft: Handy Hand Towel from Craft Bits
Cupcake Pop-Up Mother's Day Card from The Soccer Mom Blog
Mother's Day Serving Tray with Kid's Handprints from Making a Manzanita
DIY Mother's Day Gift Ideas: Printable Tea Bag Greeting Card Envelopes from The Thrifty Couple
Mother's Day Gift: Pounded Flower Tote from DIY Candy
Heart-Shaped Hand Print Photo Frame from Seaside Sundays
Soup Can Flower Pots from Wunder-Mom
Clay Footprint Bowl Keepsake – A Heart Shape Ring Dish To Treasure from Messy Little Monster
DIY Mother's Day Gift Ideas: Printable Seed Packet Greeting Card Envelopes from The Thrifty Couple
Flower Basket Paper Weaving from Red Ted Art
Easy Diy Photo Coasters from Fun Money Mom
Salt Dough Handprint Ornament from The Best Ideas for Kids
Teapot Craft – You're Tea-Riffic from Messy Little Monster
Handprint Suncatcher from The Best Ideas for Kids
Diy Mother's Day Gift: Vases With Free Printable from DIY Candy
Easy Mother's Day Card For Toddlers To Make from Rainy Day Mum
Mother's Day Frame DIY Washi Tape with FREE Printable from Confessions of a Mommyaholic