Thrifty moms save money with recycling. Everyday household items such as: clothing, shoes, water bottles, used tires, or any products are recycled into something until they become trash. for me, it is hard to throw money in the trash. I like to get a lot of use out of everything. So many ways I have found that recycling has saved our family money.
As a frugal mom who likes to save money with recycling, I find small ways to eliminate a lot of unnecessary spending. My husband will reuse or recycle materials that we have from a dog house or chicken yard and use them to build me a garden bed, or water table. Recycling takes many forms and saves money.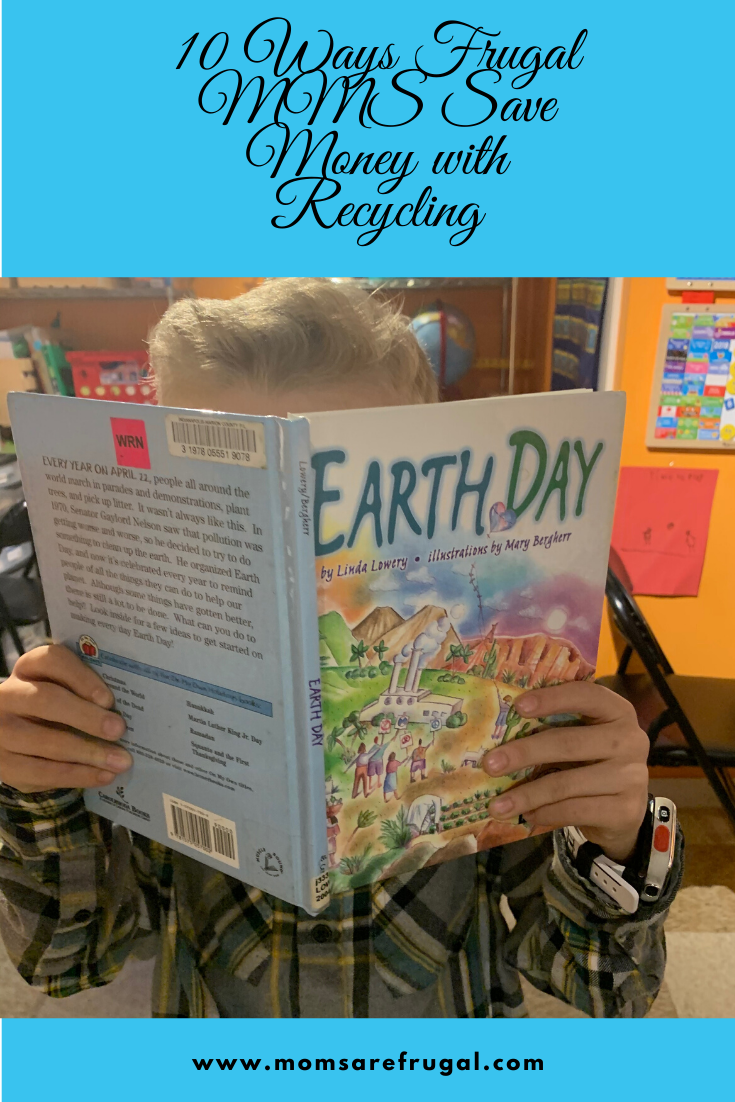 Recycle Clothing
Clothes are useful for other kids. Clothes with holes are great for rags, quilts, stuffed animals, or cut into shorts. Garage sales are perfect for selling used clothing.
Recycle Newspapers
Newspapers are great for many everyday purposes. Use them for litter in a small animal cage, cleaning windows or mirrors, wrapping gifts, or creating a collage in an art project for kids.
Recycle Milk Jugs
Recycle milk jugs to be watering cans for our flowers or animals. Milk jugs are great for holding water on a camping trip. Milk jugs are storage containers that hold bird feed, cat food, some small dog food and different varieties of food for animals. Looking at everyday household items to be recycled helps creative juices to start flowing. On Pinterest, one lady used milk jugs to make halloween lanterns.
Recycle Garden Stakes to Save Money With Recycling
Most of my plants are the same year after year. In the fall, when it is time to winterize I gather the stakes carefully. Wash, stack and store the stakes that have my plant names on them. Taking care of the stakes each year preserves the names and quality of the stakes. Recycling the stakes saves me time and work each year.
Recycle Shoes
Recycled shoes save money with recycling. Saving the high price of department stores is a good reason to recycle. First of all, with most of our shoes an clothes we shop second hand shops. Sales have to be good for me to buy new clothes or shoes.
Shoes can be filled with dirt and used to grow lettuce or onions. A recycled garden is a fun garden to have. Kids love to help with a recycled gardens.
Recycle Glass Containers
I love glass containers for holding leftovers or water to drink. Glass containers actually keep the food better persevered than plastic, and keep water cold for a longer period of time. Glass containers can also be recycled to hold plants.
Recycle Cloth Diapers
Cloth diapers can be recycled into rags or they make great window cleaners. I actually prefer them to clean my mirrors and windows. Thrifty moms sell cloth diapers to make a little money. Cloth diapers can also be used for other future children in the family. Cloth diapers save moms money with recycling.
Recycle Aluminum Foil
Aluminum foil is expensive, so I go to Sam's and buy a huge roll. I make one roll last all summer. Only on fish do I throw it away after one time. Our veggies get cooked on the grill in aluminum foil, and it used 2 or 3 times. Thrifty moms make products that they need last longer.
Recycle Old Cell Phones
My old cell phones become toys for the baby, or my older children use them to play games. Calculators for school, or use the calendar for everyday learning.
Thrifty Moms Save Money And Recycle Plastic Bags and Storage Bags
Plastic bags make great trash can liners, cat litter box liners, and doggie bags to hold remnants of waste. Plastic bags are great for storing a stack of glass plates or cups because they provide a cushion in between. Plastic storage ziplock bags can be re used again and again. When I do the dishes I clean the bags, rinse and dry. Only with meat storage do I pitch them. Thrifty moms can make a box of storage bags last a long time.
Over the past few year's before I make a purchase, I try to find something I can make in place of that product. Recycling brings out my creativity.
If this post was helpful to you please share!