Thrifty moms secret  to a monthly budget is to have a financial plan. Planning takes several steps. Part of a good financial plan is the steps it takes to be organize. Then, make it  become a habit. A habit over time will form into an easy flowing system. Part of the easy system is the breakdown of a yearly budget, monthly budget, weekly budget and daily budget.
Frivolous spending of money is unnecessary unless planned.   Blowing money is not budgeting. . Careful spending is the way of financial success. Random spending is the quickest way to feel shopping guilt. Eliminate the guilt by taking the steps I have listed. Then, act on the plan.
The secret to a thrifty monthly budget is having one. First we have a financial binder set up and ready to use. Second, we have the yearly budget plan. Now, we will break down the organization even further.
Regular maintenance of the family finances keeps the household budget on track. On my journey to figure out how to live on one income it is apparent that planning and reviewing bills is important, but now my shopping is in the budget and planned. No more guilt for me!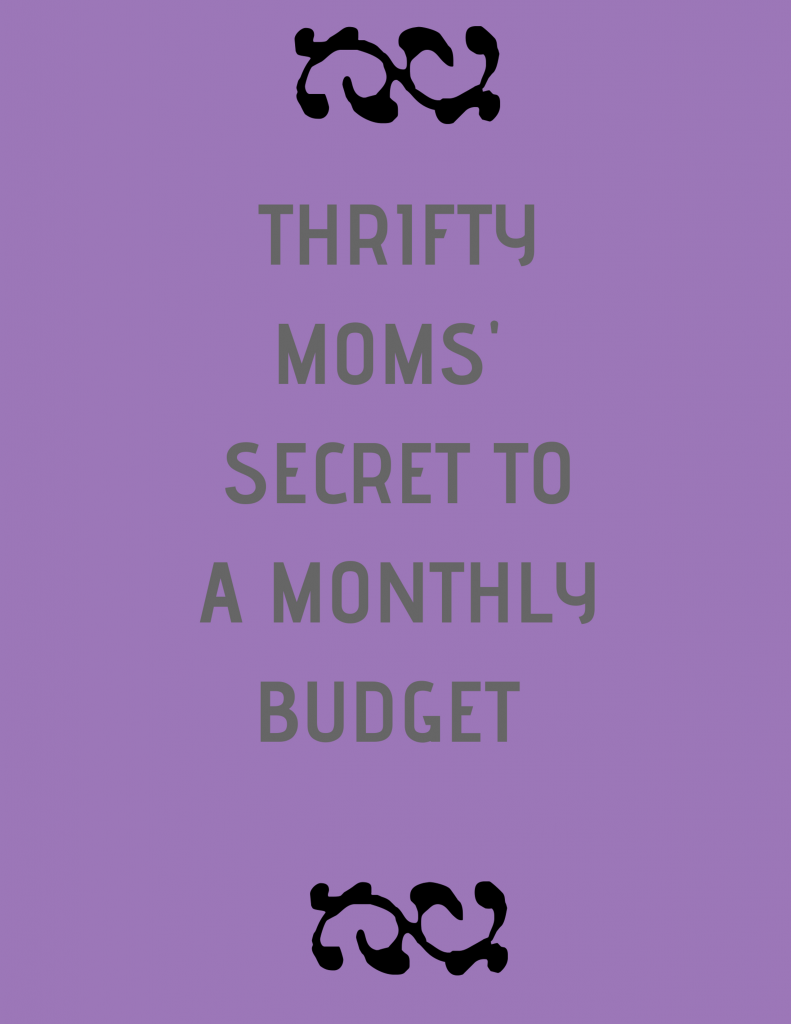 Previously, I have never been a spreadsheet person. Really. Prior to being married I was a fly by the seat of my pants kinda of girl. Making a spreadsheet is the first secret to a monthly budget for busy families. Now, I make more spreadsheets than I used to make. viewing my finances and bills quickly is important.
Monthly Budget Spreadsheet
My spreadsheet is very simple. We are a single income, self-employed family. Our income is not a set amount each month. What I do is put the important things at the top, then filter down to secondary bills.
Gas, food, and Utilities ALWAYS get paid first. A spreadsheet helps me to see the bills overall.
The next column is the amount. If the bill has been paid, or paid on (medical bills or whatever) then I place the paid amount in the box.
My final box just says "paid". In that column I either put a check mark or x. Finally, the next month I can go through and make sure all of the X's get paid right after the important household items.
I use a different spreadsheet for each month. My method worked well for my visual accountability. So far, nothing has been shut off or late since I have started this system. Lists work well with my brain, so I had to adapt my budgeting skills in a way that works for me.
Monthly Budget Calendar
A calendar is the second secret to a monthly budget for me. Each section of the financial binder holds the dates for all bills due that month.  Adding our bills to a calendar has helped me to not be late. Each bill has a date due that shows up on the calendar. Yearly bills carry over and get penciled in from my yearly planner.
The monthly budget is where I also record information, confirmations, names or amounts after speaking with billing agents. If I need to refer to anything, my calendar is the first place I reference.
Monthly Budget Income and Expense sheet
Next, my third secret as one of the thrifty moms is an income and expense sheet. Use an app or just a piece of paper. Write "income" on one side "expense" on the other.
After that…..write down EVERYTHING. This visual will help you to see see that maybe a few nights of eating out or starbucks need to be eliminated. Be honest.
Using the income and expense sheet will help keep unwanted spending at bay. Also, my banking app helps with my income/expense sheet. Utilizing an expense/income sheet has become a habit monthly. Adding up unwanted spending targets what area needs to change.
The income sheet will show if enough income is coming in for the household. If not, looking into other options to bring in money is an option. There are plenty of ways to earn a second income whether it is a part time job or a work at home job.
Monthly Review of Bills
The final step for thrifty moms is to review each bill before you pay it. I have received credits sometimes and did not even know. Extra charges and late fees can be avoided by reviewing bills.
In this step thrifty moms may call companies to see if there is any kind of discount. Dentists' offices and pediatrician's have given me discounts before for paying a bill in full.
Final thoughts: Good financial records and organization saves time and money. Up front it may take more time to set up, but once the system flows it is a piece of cake to maintain.
For more tips on the frugal lifestyle sign up for my monthly newsletter.