Backyard camping is cost efficient for parents, close to home, and a fun alternative to state park camping. As a child, my favorite part of summer was setting up the tent in the backyard for a few days. Also, it became an automatic playscape that was full of adventures. My imagination was able to run free and many great memories with my friends were made.
The tent we used was old. A worn, musty, durable tent had many fun times tucked away inside.. Our camping tent was a great tool for childhood recollection.
Opening up a new, safe experience with backyard camping allows for all of the "safe" comforts of home with a touch of outdoors. So many city and suburbs hold the same elements as a rural area, yet are not applied.
Supplies for Frugal summer Backyard Camping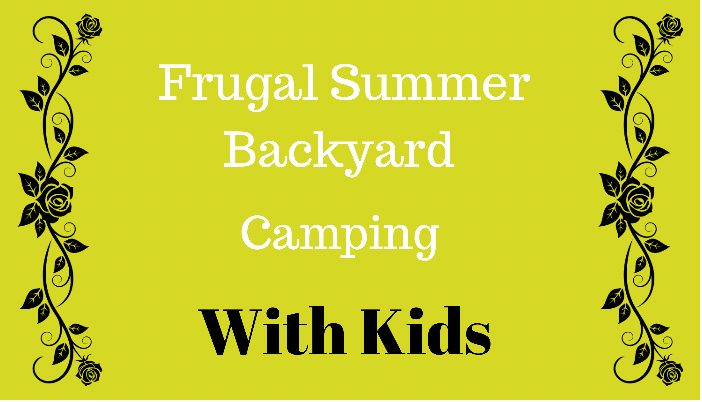 Supply lists for backyard camping are the same as regular camping. Noting the fact that this still needs to be a primitive experience helps to set up the scene. Of course, tents are first on the list of supplies. Sleeping under the stars is fun with a sleeping bag, but better with shelter. Storms do happen in the middle of the night.
Second, bedding for the overnight experience. Depending on the climate different bedding is necessary. Hot, summer nights where we live does not require a heavy sleeping bag. Cots with sheets will suffice. Air mattresses work wonderful with a cool sheet thrown over the top. Pillows should have a light case, cotton works well.
Third, a small flashlight or lantern will be needed for late night games in the tent or reading. Flashlights work great for necessary bathroom trips. A couple of card games tucked inside of a basket with a flashlight will set a fun ambiance.
Finally, water and snacks are important. Backyard camping is just like regular camping with no modern conveniences. Therefore, fridge access is not available. Late night runs to the bathroom facility are open because this is labeled primitive.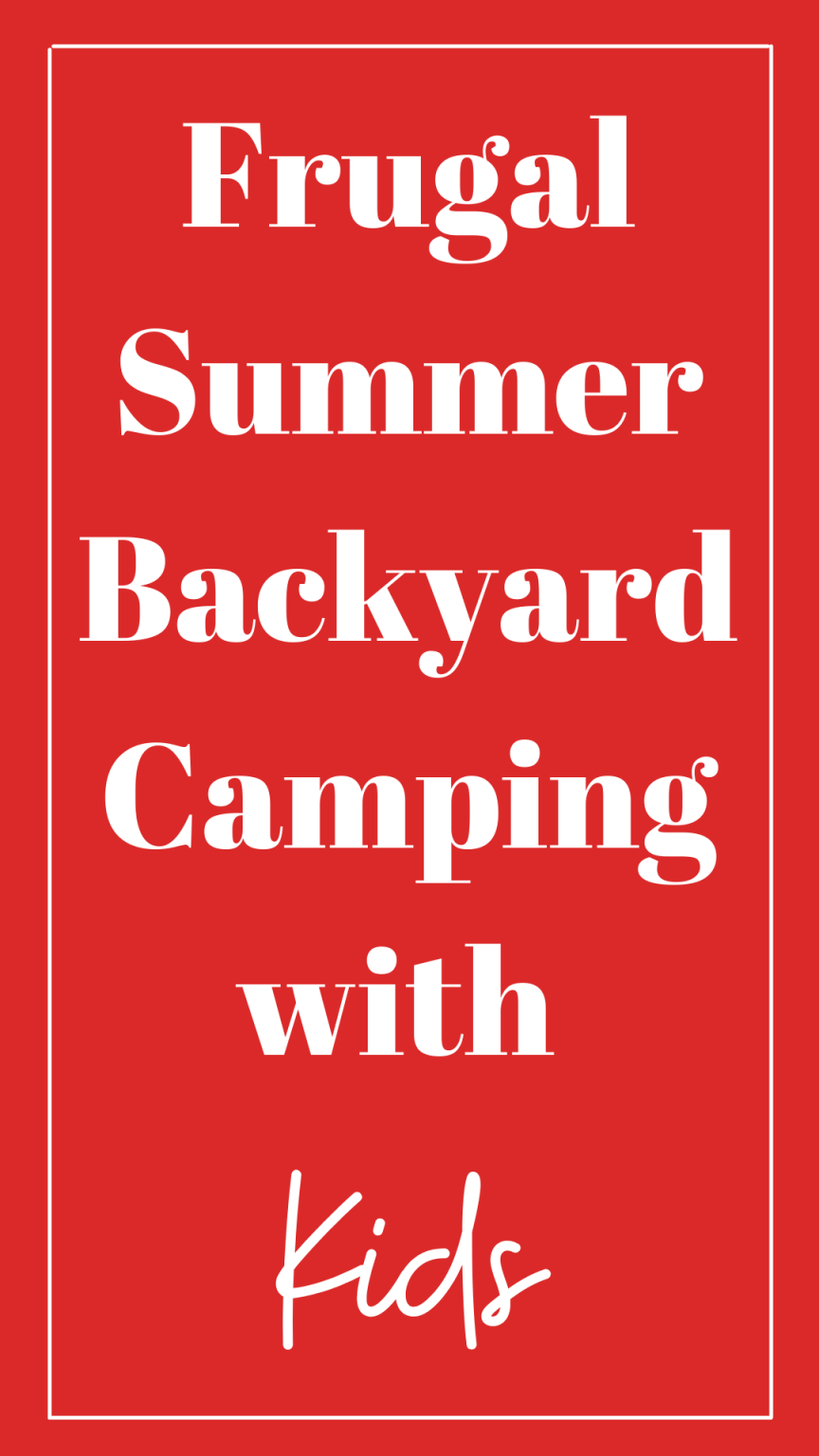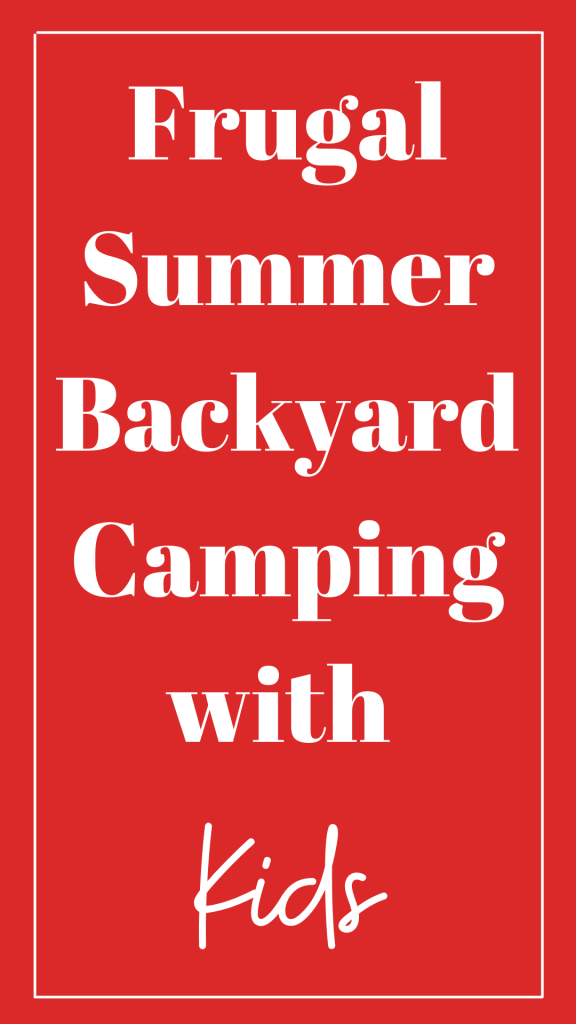 Food for Camping in the Yard
Camp food is delicious. Anything cooked over an open fire is going to have a good taste. Backyard camping does still have delicious fire cooked meals by parents. Never let children cook their own food without supervision.
Clearly, a late evening meal should be the main event. For this we have something simple like walking tacos. Taco's are a low cost meal that most kids love. In addition to taco's are many other options for an easy dinner such as hobos', and hot dogs. Allowing the kids' to cook safely with supervision is ideal.
Next, later in the evening before bed a good snack is S'mores. In addition to the tasty treats, they will need to be washed down with a cold drink. For this, I keep a cold, cooler close to the camping area. This cooler is filled with ice and helps to eliminate indoor trips.
Moreover, besides being thirsty on a hot, summer night will be bathroom trips. Thinking ahead will detour a ton of dirt leading a path through the house. Having a mat, or towel to catch dirt and water at the door helps.
Backyard Activities for Camping
Backyard camping activities include setting up the tent, collecting wood for a fire, fishing, wood carving, and making a walking stick. First we set up the tent, and make sure to find a shady area in our backyard. Then sleeping is a bit more bearable. Hot sunny mornings in a stuffy tent is miserable.
Next, we scout around the yard for dry wood and sticks to use for starting a fire. Larger logs burn longer for nighttime S'mores. Collecting wood is a great time to play tree identification, leaf identification, or review fire safety skills.
Ultimately, the kids enjoy trying to make a fire with a flint stone. Gathering small sticks for a fire is useful for teaching. Building a fire is the first step to teach. Flint and fire are the ultimate frugal summer activity for camping.
Correspondingly, many times I repeat how we don't start fires or play with anything that can start a fire. The fire will be mesmerizing to some kids and they may want to play in the fire. Fire making activity should only be done with adult supervision at all times.
Other frugal summer camping activities may include fishing for dinner in a nearby pond, making a walking stick for a neighborhood hike, or carving a spoon from a small block of wood.
All of these survival techniques are fun, they teach life skills and kids love them. Best of all, you don't have to drive a long distance. In the heat of a hot summer day my not be the best time to go for a hike, in this case plan activities accordingly.
In addition to the survival techniques, fun games like a bug scavenger hunt or counting how many different berries are found in the neighborhood is intriguing.
Frugal Summer Camping
Camping doesn't always have to be in the woods, far from home. Nature experiences surround us, even in the city. Apply camping skills close to home teaches kids to observe their surroundings. Join in the fun and sleep under the stars. Astronomy lessons abound all around us.
Create something fun with what we have. Opportunities are endless for camping fun with kids. Frugal camping does not have to be big and flashy. Less is more. Adventures will open up and ideas flow.
Camping in the backyard has so many opportunities for fun. Low cost fun with camping is good for birthday parties, sleepovers, scout activities, and much more. For more posts on frugal living, homeschooling and suburban homesteading join our newsletter.