Every Friday night we used to order pizza. After homeschooling and work all week, cooking was not a priority. Ordering pizza began to get expensive with a family of six. My sons are getting older and eat more than they used to eat. Pizza deals are not enough to feed our family. 
Carryout pizza was taking longer and longer to pick up, and the service was not that great anymore. So, I looked up my trusty pizza recipe from when the kids were little. This recipe had not been used in years. I was then homeschooling, taking care of four kids and a house. Homemade pizza was not easy to make and so it was pushed aside.  
Bad habits sneak in when we least expect them too. Having someone else make pizza robbed us of saving money for years and creating a fun pizza making night with our kids. Now, that I have made this pizza a few times it is getting easier, and my frugal homemade pizza tips have saved us money.
Instead of spending almost $30.00 on pizza for our movie night, using my easy homemade pizza recipe brought it down under $10.00.  Making a homemade pizza is healthier, and cheaper for now.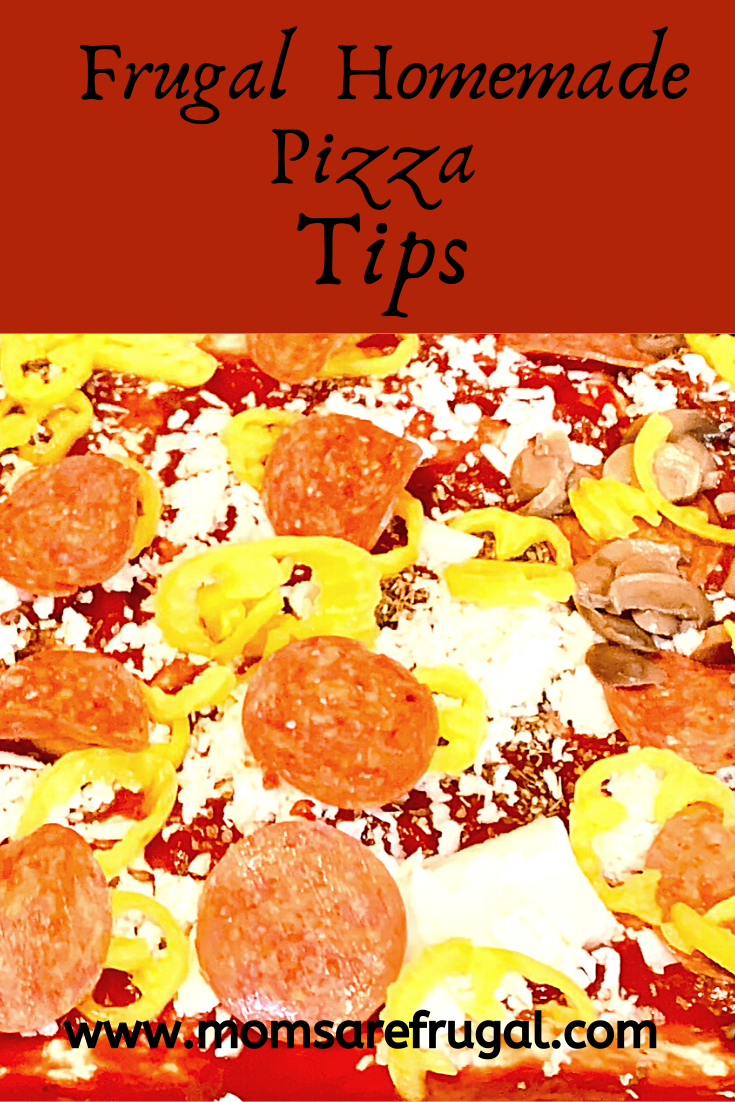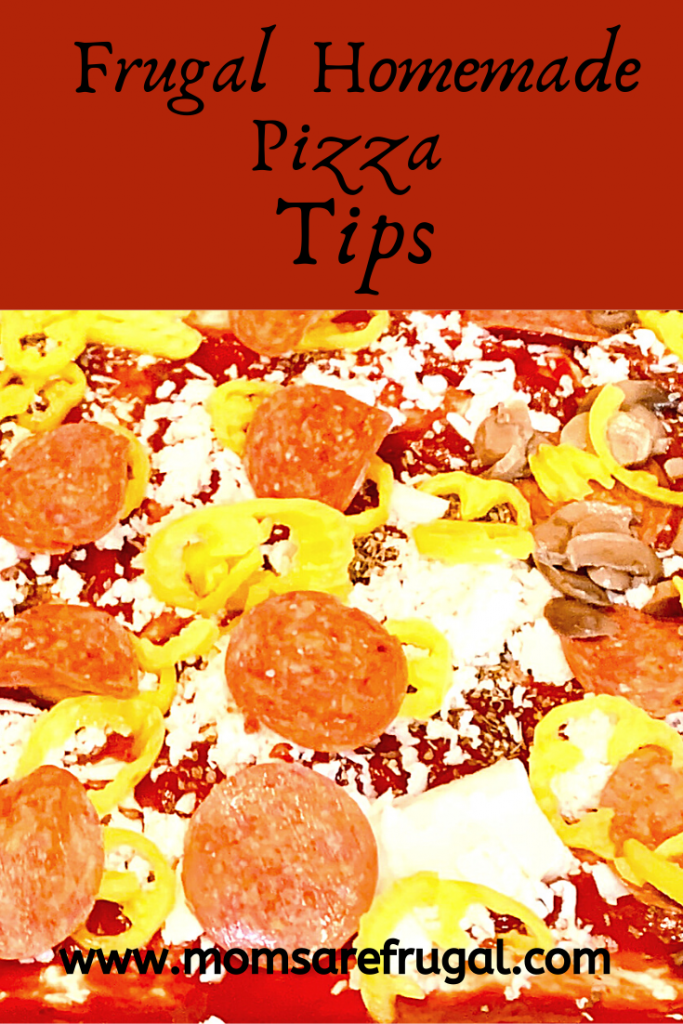 Since I only eat cheese pizza,  the cost is low when I make homemade pizza. I use mozzarella cheese that is not shredded. Shredded cheese tastes artificial to me. Mozzarella cheese in the block has a much better taste.
Ingredients:
4 cups flour
2 tsp of warm water
2 Tablespoons active dry yeast
3 Tablespoons of sugar
4 tsp.  of oil
1 1/2 tsp of salt
Directions:
Pour warm water in a bowl. The water should not be scalding, but a little hotter than lukewarm.
Sprinkle the yeast over it. Let it sit and bubble for 5 min.
After combining all of the ingredients, dump onto a floured surface. Knead dough for 5-6 min. Knead the dough until it is not sticky anymore. 
Place dough back in bowl place a tsp.  of oil in the top. Cover the bowl with a towel and let sit for 10 min. This helps the dough to rise. 
Recipe Frugal Tips
Sometimes the dough can be sticky. First, I always add a little bit of oil to my hands. Second, I flour the surface that I am kneading the dough on, and a little as I knead to keep the dough off of my hands. Losing a lot of dough by washing it off of my hands one time taught me this lesson.
After kneading, cook at 350 degrees for 15 min.
Toppings Frugal Tips
Any toppings can be added. Some frugal homemade pizza topping tips :   to buy in bulk. Use toppings from the garden.  Freeze toppings to use after harvesting a garden.
Food in the pantry is no good if we spend money on take out. Learning my own lesson of making my life easier, and it was costing us more. Saving money by making homemade pizza was a good decision. the best frugal tips come from the ones we love.
It is a good feeling to see the empty pizza pan and hear my family say they like mine best.