Kids thrive on attention, attention, and attention. Playing quick games with them helps them to get this attention. No, it does not make them spoiled, but in essence gives them a greater grasp on adult interaction, increases their vocabulary and creates a bond that cannot be replaced.
Kids learn so much from games and puzzles. They are really great teaching tools. If you homeschool like we do, games become part of your day and week. Each week our review involves some sort of game.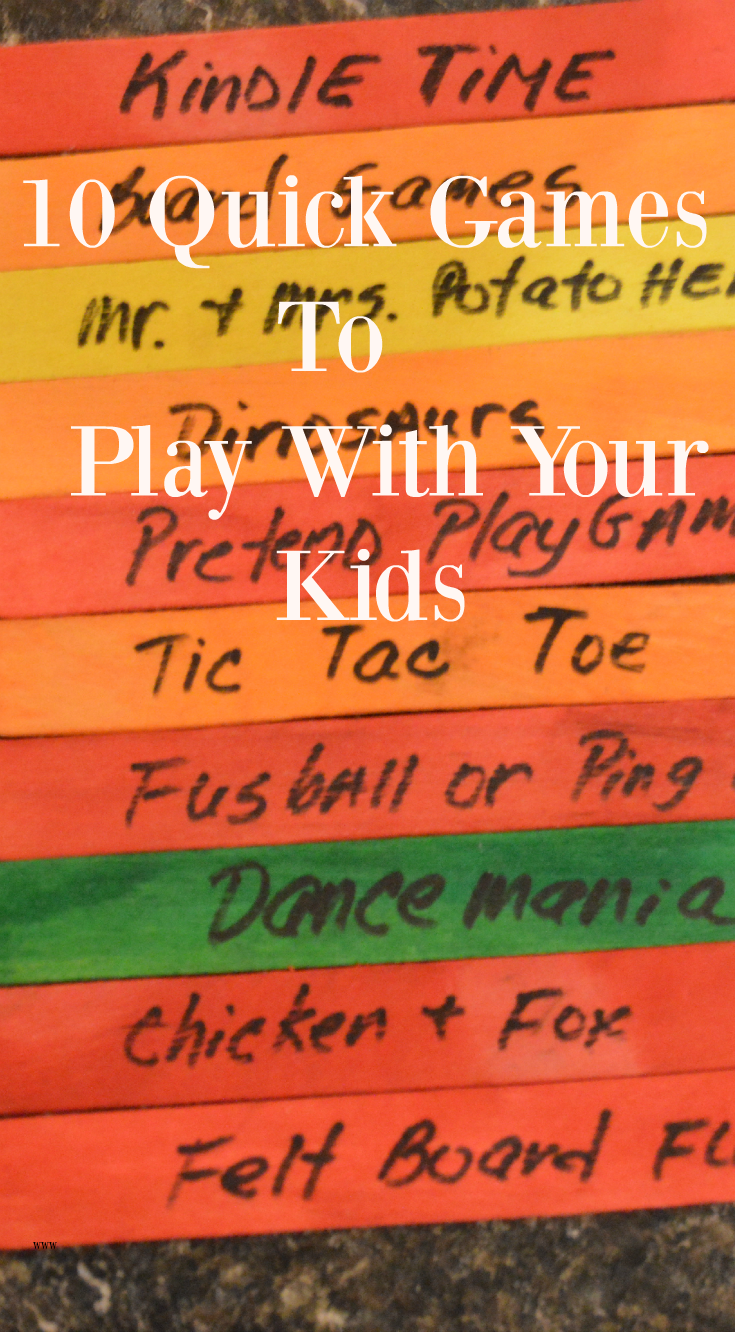 Our family loves to have a game night. Because we have so many different ages we have to plan different games when we play with our two oldest children. My four-year- old loves to play Chutes and Ladders ( I always lose). Losing is fun when the smile on his face is huge.
Since we love to play games and I try to incorporate them into our day I have had to make a few modifications. There isn't always time for Connect Four, or Scrabble, and Bingo. Those are great games, but I had to come up with an idea that would give me 15–30 min games for a quick time slot.
My goal was also to challenge the game playing with the kids to increase critical thinking skills. Here is how I resolved to include more than just a "game" but keep it quick.
Ten Quick Games To Play With Kids:
Mr. and Mrs. Potatoe head
Felt board fun
Chicken and Fox (tag with one person being the chicken and one the fox).
Tic Tac Toe on the chalkboard
Dinosaurs (We act like a certain dinosaur) or whatever favorite hero your child watches.
Kindle time (I play games with the kids).
Fusball or Ping Pong.
Banana-Grams.
Pretend Play (Usually we use our dres-up box, grocery cart, money, and plastic fruit).
Dancemania (We turn on our favorite music and dance with the karoke machine or microphone).
How To Make The Game Choices:
Get some craft sticks.
Brainstorm some ways to take fun games or toys that your kids love to play and write the games on the craft stick.
Put all of the craft sticks in a jar.
Each day at game time get the jar out and have one child choose a stick. That is the game for the day. It really is easy, quick, and fun!
For more posts sign up for my newsletter.