Johnny Marzetti is a favorite quick meal at our home. This easy summer recipe takes only 15 min. of prep. My family LOVES this recipe!  I mean when I make it, is usually gone with no leftovers.  The hard part?  Waiting one hour while it cooks.  This meal will have your family's tastebuds drooling. Really.  My children are excited to see this recipe on the meal plan. The cost is reasonable too. 
This recipe takes does take one hour to cook, so chop up some veggies for a side dish while waiting.  Johnny Marzetti also can be used as a freezer meal by just doubling and saving the rest.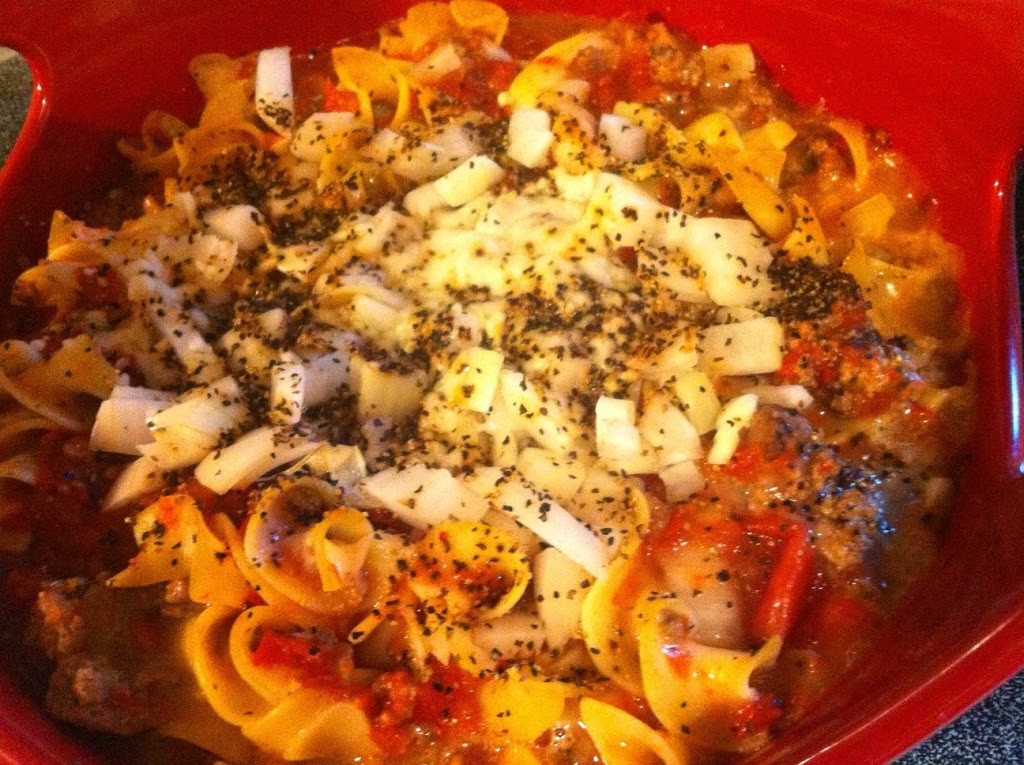 Johnny Marzetti
Ingredients:
1 lb. hamburger
2-8 cans tomato juice
2 cups egg noodles
1 can cream of mushroom soup
1 tsp. salt
1/2 tsp. pepper
1 small onion
1 c. mozzarella cheese
Easy Summer Recipe
    Step 1.

    Brown hamburger and diced onion. 
              *Drain off any excess grease. 
Step 2:
 Place the hamburger, diced onion, noodles, pasta sauce, mushroom soup, mozzarella cheese, salt and pepper. 
Step 3:
Cook covered (aluminum foil is what I use) for 1 hour at 350 degrees.  If it gets dry add 1 cup of pasta sauce. 
In the summer months a lot of people do not like to use the oven. I am one of those people. Anything that heats the house up is a "no go". Johnny Marzetti takes an hour to cook in the oven. The best way that I found to overcome this issue is to cook this meal in the morning. Morning hours are not as hot so I get my dinner done early.
After that, when it is close to dinner it is easy to reheat portions in the microwave.  Most of my summer meals involve a crockpot so that may be another way to try this delightful dish!
This recipe is easy, quick, and your family will love it!
What are some of your favorite recipes?
  Please share some links on my Facebook page, or add them to my Pinterest board!
Cheers,
Michelle