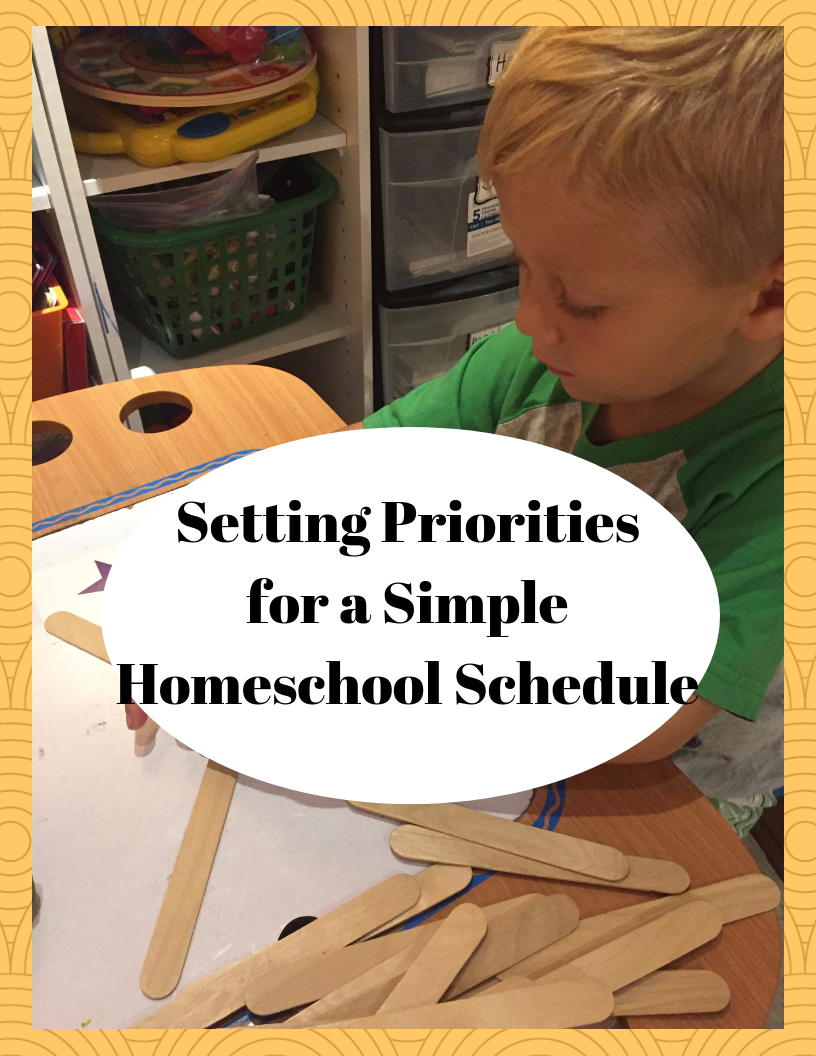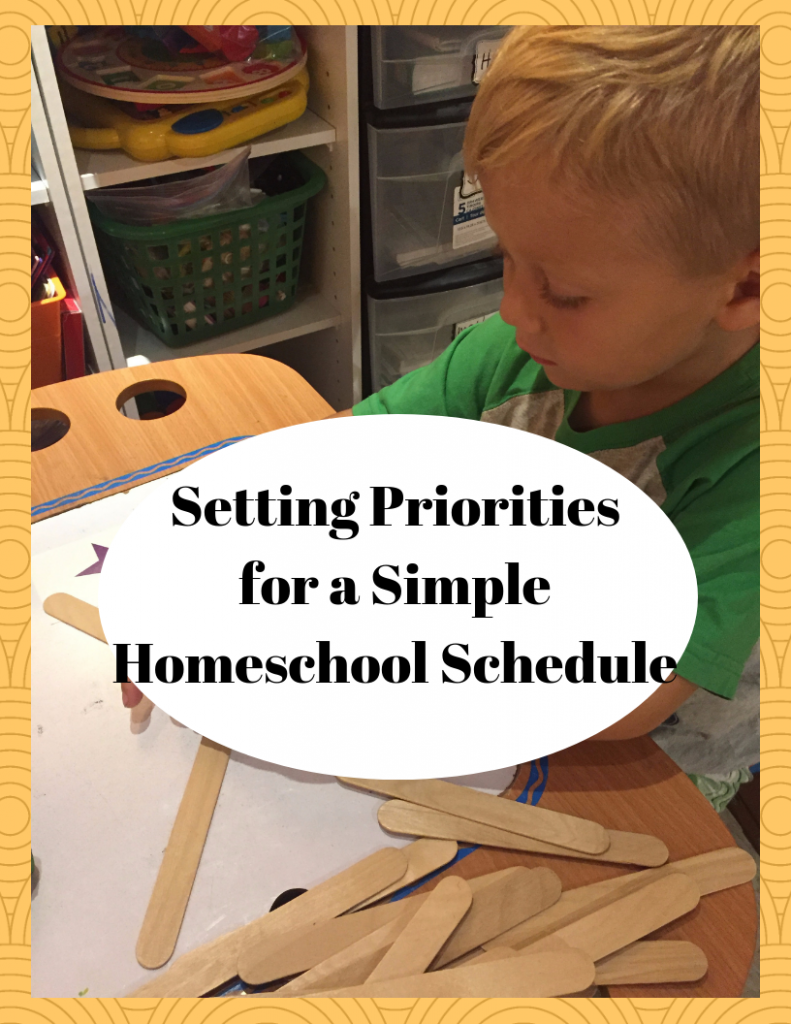 When I first started homeschooling it was easy. I had one child, he was older and could do most of his work on his own.  As our family grew, so did the responsibilities. When my kids were all under 5 getting housework done during the morning was impossible. Homeschool was challenging for my oldest because of his 3 younger siblings. Prioritizing what I needed to get done during the homeschool hours was important.
Setting priorities for a simple homeschool schedule is the first step. Simple means getting done only the most important items in the time allotted. That is the structure that a daily schedule will help with to make homeschooling easier.
Prioritize what is important
The first way to start is to list what is important in a day. Homeschooling takes planning. Homeschooling takes preparation. I needed to have a simple homeschool schedule so I put the most important parts of the schedule on the list first. Take time to put the list together. Busy moms get overwhelmed when the plate is too full.
No one person can handle it all. We did not have the funds for a cleaning lady, so I was the cleaning lady. I wrote down all of the chores that needed to be done as suggested in the "Managers of Their Chores" by Teri Maxwell. Then I put together my daily task that I would focus on and routines per the Flylady.
Set Homeschool Hours
The next part was to set homeschool hours. Just like when I had my cleaning business I had to keep certain hours for work. Then I worked during those hours. No running around, going to the library and other activities. Our homeschool had to be consistent, planned, and a commitment. Library days and field trips were added in on lighter days or Friday.
Curriculum Checklist
My simple homeschool plan includes a lesson for each child, and each subject is listed on a checklist. My mind works in a simple list format. I put my most important and harder subjects first. I sit down with each child during their one on one time and work through my list. Then as I grade work we will correct the incorrect ones. Each week all of the lessons are added in their homeschool planners. As each section is completed it is then highlighted.
Stop Homeschool On Time
When the timer goes off to end the homeschool day, stop. Don't go on. It is important at this transition time to follow the household schedule. The household schedule should have cleaning time, work time or hobby time in place. Even if work is not done, quit. Take a look at what is involved in the lesson and make sure that it isn't unachievable. Look at the how long it should take and evaluate. Maybe assign more or less. Check into how the homeschooler is understanding the lesson and how it can be done well, but efficiently.
Starting out as a first time homeschooler many years ago having boundaries made it real. Just like for work I have set hours that I am not available. Those hours are filled with lessons and learning. Simple homeschool priorities are important. These priorities set the tone for a schedule and the work that needs to get done.
If you found this post helpful, please share!