Two years ago, we created our own movie room in the basement because we love home movie nights so much. Here's some tips to make your home movie night more fun, on a shoestring budget.
DIY Movie Theatre
First, before anything is the actual movie night equipment. Nothing fancy or expensive like a projector is necessary. Make sure the TV is working properly, remotes have batteries, and all connections are working. We have had several movie nights that did not start on time due to equipment failure.
Next, have the kids make some movie night posters to hang around like at the movies. They can create an ambiance feeling. Lower the lights and prep the pillows and blankets. The best part about home movie night is the relaxed feeling. Comfort plays a big part in watching a two hour movie. The times we have been at the movies they have really nice movie chairs that are heated and recline.
So, for our shoestring budget movie nights we try to re-create that comfort feeling. Finally, place a few lines of white Christmas lights around the room for a realistic movie feeling. Setting the tone of the home movie night is easy with dimmed lights and a tv.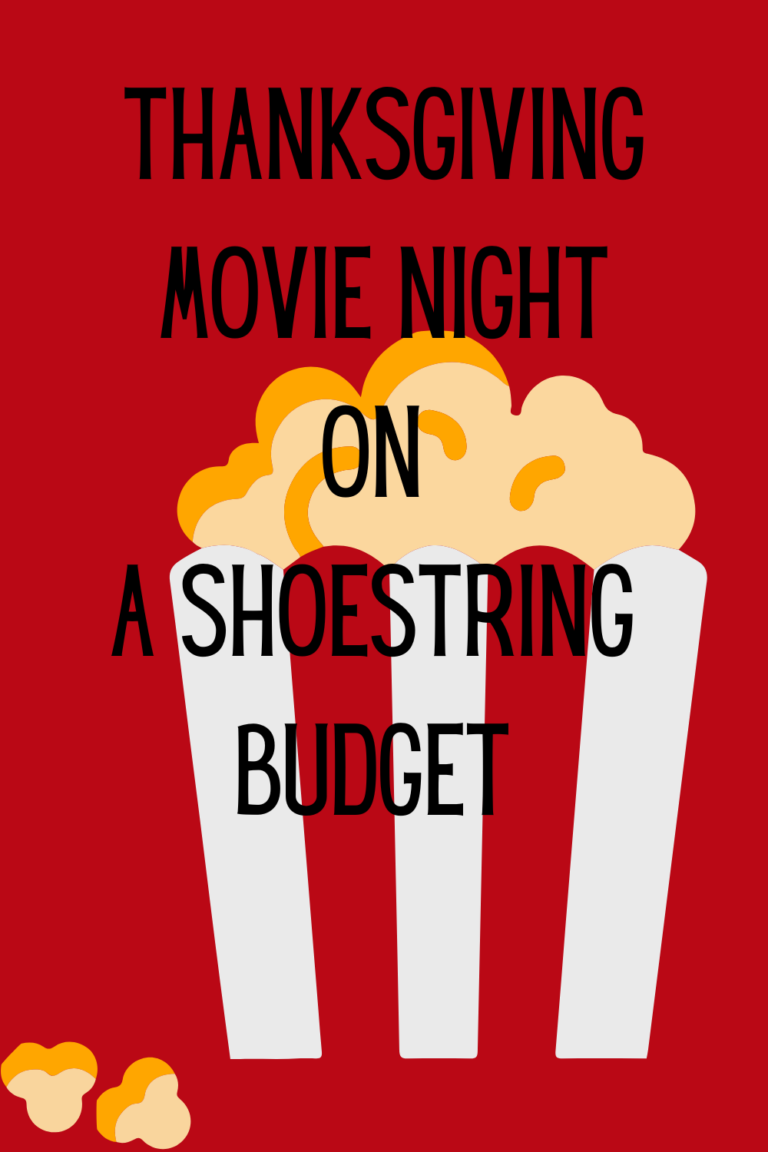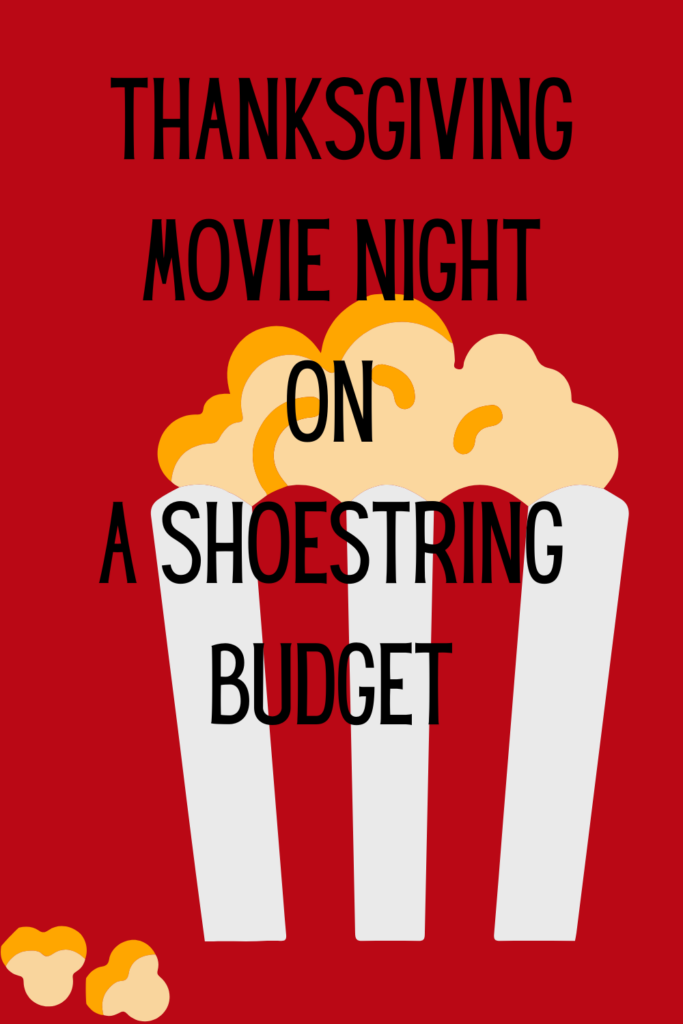 Affordable Thanksgiving Movie Selection
We do not have regular tv, but rely heavily on streaming apps. So, for us our movie nights are pretty inexpensive. If I am going for a new movie that isn't out, we go to Amazon Prime and purchase the movie. It saves us money in the long run, because the kids will want us to watch it several times. Anyone relate?
Our shoestring budget nights started many years' ago when we couldn't afford $20.00 for a movie, so we shopped the used movie and game shops. Eventually, our movie stash grew. Now we have almost two bookshelves full. So, some movie nights we tell them to pick a movie off the shelf.
Garage sales also are a great place to find movies on a shoestring budget. I found A Charlie Brown Thanksgiving several year's ago on sale on while shopping.
Some good family movie selections are: Freebirds, Matilda, Home Alone 1, 2 & 3, Fantastic Mr. Fox, Ratatouille, Anne of Green Gables, Turkey Hollow, Garfield Thanksgiving, National Treasure
Movie Snacks and Drinks on a Shoestring Budget
This is the fun part. Sometimes themed food can be pricy, so we don't do a lot of the themed snack nights. Instead of buying a box of popcorn for the microwave, we go all kinds of cheap and purchase popcorn to cook on the stove. It is the shoestring budget hack that gives back. Not only do we save money, but the kids love to cook the popcorn.
Our Thanksgiving movie night is always the night before Thanksgiving. We have no where to be first thing in the morning so we are at liberty to watch more than one movie, and drink pop with candy.
They are older now, so not as much supervision is needed, but they really enjoy it. In addition to the popcorn, we purchase candy at the dollar tree. You can't beat $1.25 for a box. After that, we go to the store and shop for a sale on 2 liters. Ordinarily, we don't do a lot of pop, so this is a real treat.
Faygo, Root Beer, 7 up, Crush, and Lemonade is the options they get to choose from.
Create A Movie Theme with Matching Pajamas
Matching pajamas aren't only a Christmas thing. On the rare occasion that I find pajamas on sale, I buy them for the kids. They grow so fast I know we will get plenty of use out of them. Finding quality pajamas on sale fits well into my shoestring budget movie night. So, I buy the pajamas and save the surprise for the movie night.
It is always exciting when we are prepping the room and snacks to hand out surprise matching jammies. The night before Thanksgiving, the theme of our movie night is always Thanksgiving, so I make the pajama coincide.
Likewise, if I can't find any pajamas on sale for a justified purchase, then i head to a thrift or consignment shop, and purchase some new pajamas. We have all boys, so they grow out of them quick any way.
So this Thanksgiving Eve, set up a home movie night on a shoestring budget.
For more posts on frugal living, homeschooling, and suburban homesteading sign up for my newsletter!