In addition to a well stocked pantry for long term purposes, is a spice prepping on a Suburban Homestead. Everyone likes to have their food seasoned, and in the case of an emergency that would last longer than 3- 7 days spices add flavor.
No one plans on being without food for the long term, but several incidences and natural disasters have proved long term food storage is necessary. Living on a suburban homestead has urged me to prep a little more since the pandemic two years ago. Food shortages are real, and feeding your family is a high priority. For me, I don't want us to eat bland tasteless food for days or weeks on end. Spice prepping has also been added to my list of long term pantry needs.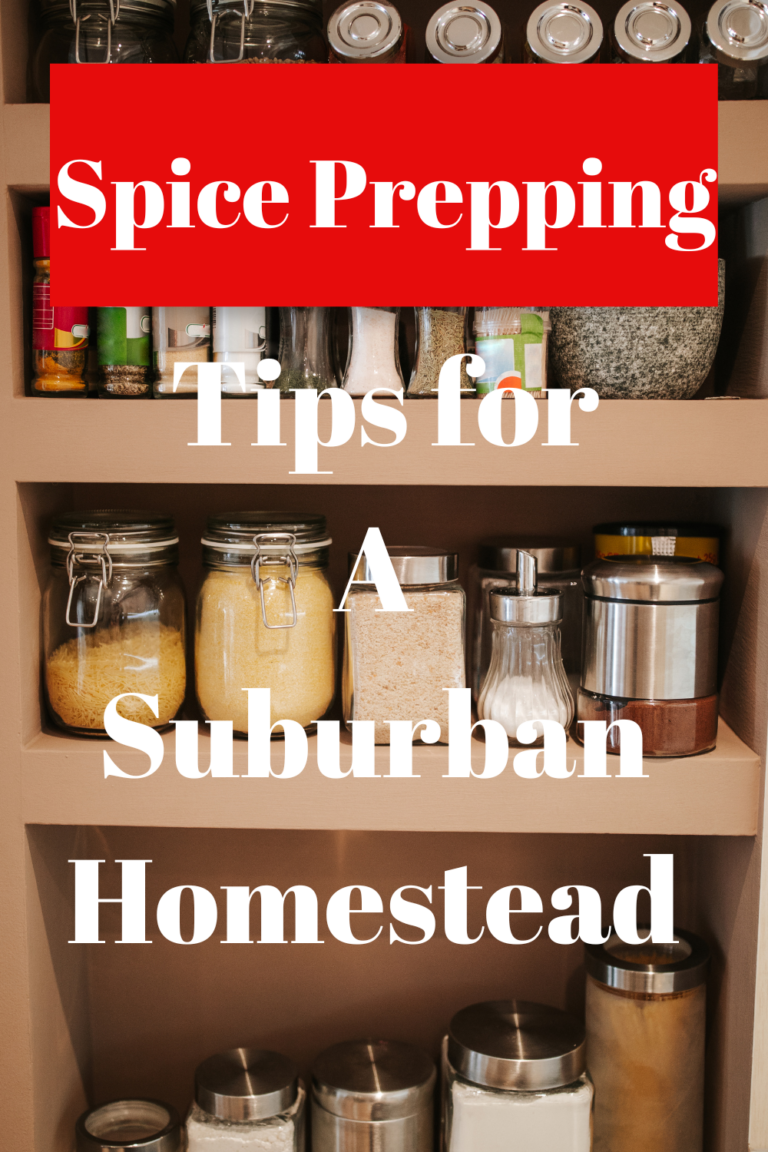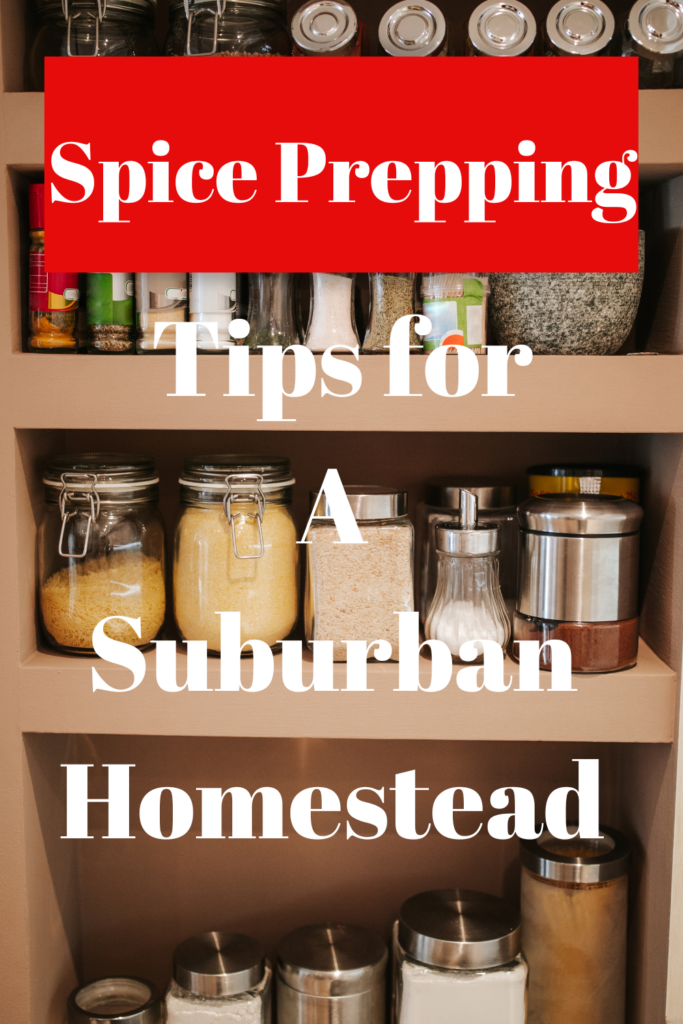 Suburban Homestead Spices to Stock
Salt is a necessity. A little bit goes a long way. Salt can be used for a variety of purposes, and it is definitely one of my favorite spices.
Pepper is the second spice on my list of prepping needs. Pepper adds flavor to even the blandest of foods. Cinnamon, cayenne, ginger and nutmeg are good spices to have in stock because they can change flavors of something mildly, and cayenne adds heat.
Garlic and onion are two more spices that are not only good to add for flavor, but are healthy. Most spices have a health benefit to them, which is why I picked the ones above. Adding cinnamon to water can change the taste if necessary, ginger and garlic both have good flavor to add in stews or other throw together soups.
How to Store Spices Long Term
First, I leave them in their original containers. This system works well for me because I do use a lot of spices. I buy them in bulk, so when I need to use them I refill the bottle that is on my shelf.
To store spices on a long term basis as a suburban homestead would be to make sure they keep, and the taste isn't gone. One way to do this is too place in an airtight 5 gallon bucket. Buy every spice you will need and maybe two of each. Then leave in the original container and put the lid on the bucket. Place in a moisture free area. Labeling on the lid all of the spices is a good idea to keep inventory. Vacuum sealing is another way to store food long term.
Finally, Keep spices away from light, moisture or humidity. Using these tips will help them last longer.
Choosing Spices with a Long Shelf Life
Whole spices will have the longest shelf life. Cardamom, cinnamon, anise, cloves, coriander seeds, fennel, and cumin are considered whole spices. This is where you convert the spices in their entire form. Alternately, usually the spices bought at the store are ground.
If you wish to use ground spices, a mortar and pestle will work.
Bulk Spices to Buy for the Suburban Homestead
Amazon, and azure are the top places that I have found to buy in bulk. It is also possible to grow some of your own spices, then dry them and use.
Also, Amish farms sometimes carry bulk spices in their stores. A little bit of research and digging to evaluate pricing and delivery may be necessary. Storing bulk spices from their delivery form is essential upon receipt. Save some of the pickle jars or salsa jars. Wash and remove the labels. Since longterm herbs need to be in a sunlight free room, in a glass container these reusable jars will work great.
Add in another label on the front to prevent future questions. Finally, Place in a cool room on a dark shelf. One more thing would be to add the date that the spices were added to the jar. Inventory updates will allow them to be rotated in with a working pantry.
For more tips on on frugal living, frugal homeschooling and suburban homestead sign up for my newsletter.