In the past few year's an emergency pantry for long term storage has become a regular household activity. Prepping for disasters', or economic events that may affect the food supply has become a reality. We no longer can be guaranteed that food will be on the shelves when we enter a store.
My emergency frugal pantry storage gives me peace of mind. Never again will I go on a hunt for toilet paper like I did in 2020. I was caught off guard once, not twice. I have listed some helpful hints on preparing an emergency food storage. Work long term storage with a system. In addition to the system, keep a routine of updating the inventory list and using it for each month's grocery needs. I have a great free download that is free to help with the frugal pantry planning.
(Free Download )
Buy What You Will Eat
Everybody has a list of foods that should be in an emergency pantry. This is ok, except for the fact that not everybody eats flour, grains or grits. Likewise it is a waste of money. Store what you will eat. For example, I do store flour in a 5 gallon bucket. I do not store other grains that we do not eat on a regular basis. Pasta, tomato sauce, toilet paper, granola bars and canned food items are my purchases. We do buy cereal, and oats because they can be eaten dry or with just water in an emergency.
My goal with an emergency pantry is to be able to exist for 30 days without having to go to the grocery store. In addition to what I buy in the store, I also can produce from our garden and freeze vegetables for winter. Storing what we eat is important, or it will go to waste.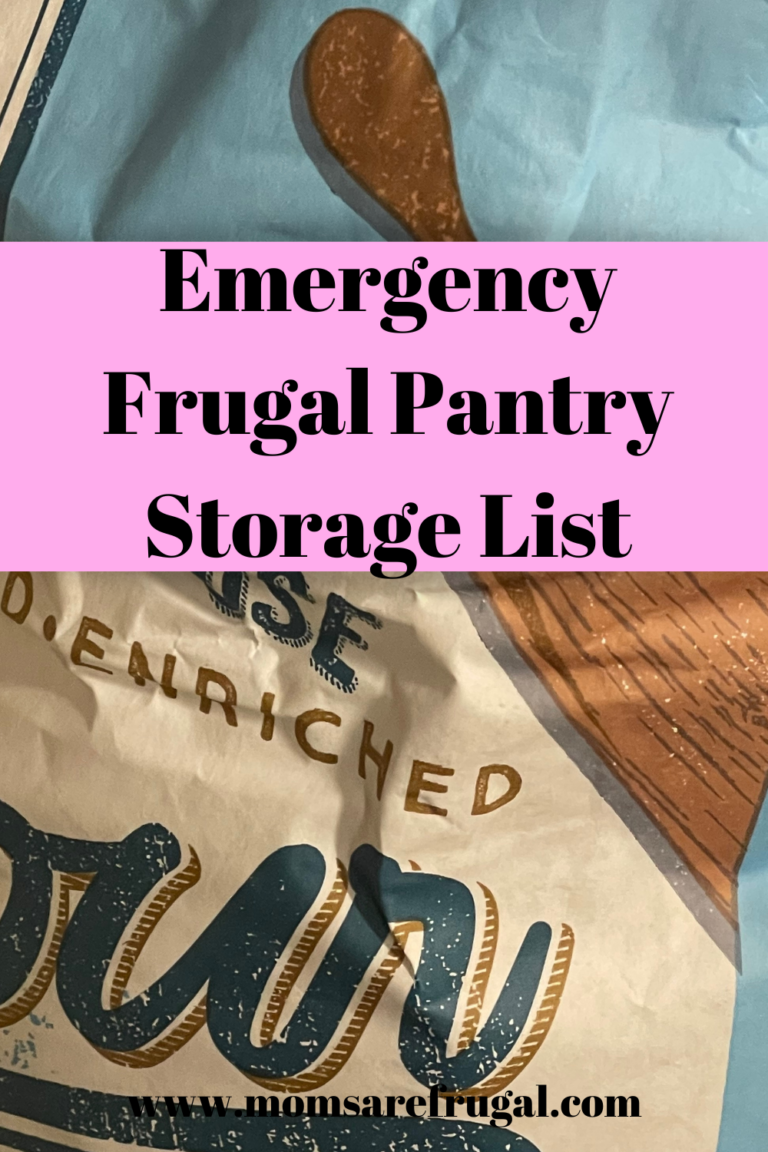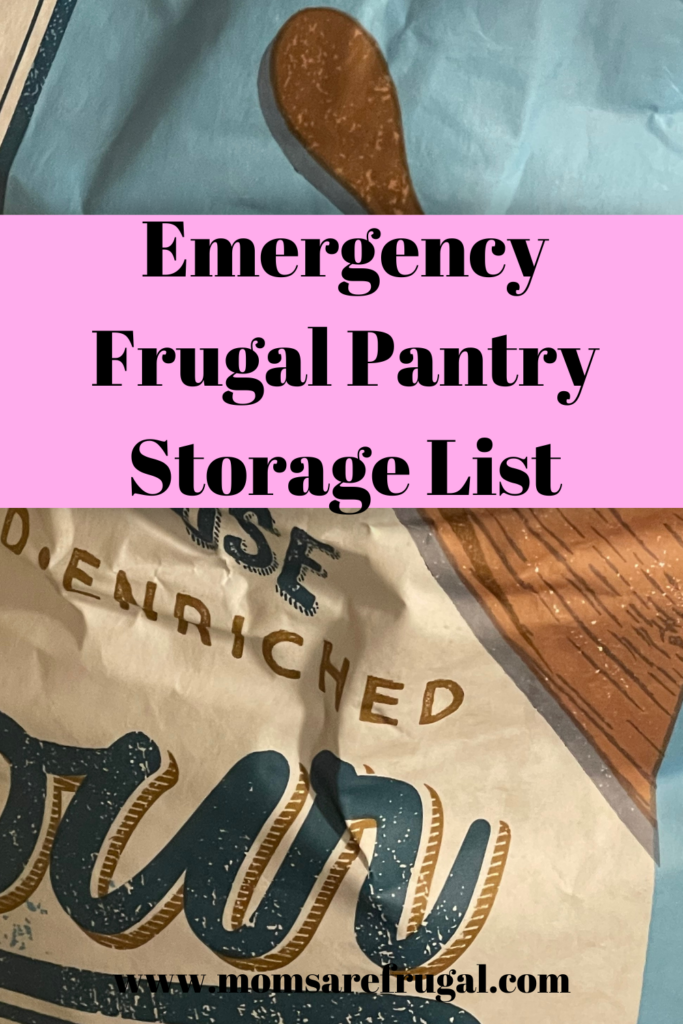 Keep the Shelves Organized
I organize my shelves by categories, canned food items such as green beans stay with other green beans. Then, I have a number that I will keep. Usually it is whatever fits on the shelf, if ten fit in a row, then that is the number I will include in my sheet. Then, when I go to do my monthly grocery shopping, I will count how many I need to buy to fill the shelf and make ten.
My process for upkeep on my emergency frugal pantry is not hard. The two most important parts are organized categories, and organized shelves.
Start a Routine for a Frugal Pantry Inventory List
Routines are started by doing the same thing each time, on the same day, at a specified time. In addition to the monthly meal prep plan, add in the frugal pantry inventory list. For myself, I do my monthly shopping according to what I have in my long term storage shelves. Anything additional I grab on my weekly shopping trip.
Set the routine up to operate with efficiency. For instance, grab a clipboard and the inventory list. Create the system for the routine to follow. Write it down. Then, each month do the same thing again. That will create a habit.
A monthly habit of making an inventory list for an emergency frugal pantry keeps the shelves full. Missing one month is going to be a setback. After 3-4 months filling out the inventory list will be automatic.
Another idea for the inventory list is to create a double use as a price guide. Each month use the inventory list to write down prices and follow sales. Finally, set up a file and label it "emergency pantry" . Looking back over the year will be a good gauge of what will be needed, used, and affordable. Having an emergency pantry is an additional way to save on groceries.
For more posts on frugal living, homeschooling and more sign up for my newsletter.