The home we live in was built in the 50's. People back then did not have large closets, rooms, or laundry spaces. Our laundry room is located in the basement.
To say the least, it is small. I get a wall with enough room for a washer and dryer. I had to come up with solutions that would enable me to take care of the laundry, be organized with the laundry, and keep up with ironing.
I do not iron a lot, except on Saturday night or before a special occasion. My problem was a small space that needed an ironing board, folding space, organized bins, and a place holder for random stuff.
The first part of my journey to create an easy laundry solution was write down what I needed.
My second step was to find what I wanted and put it together. Having a a husband in construction helps.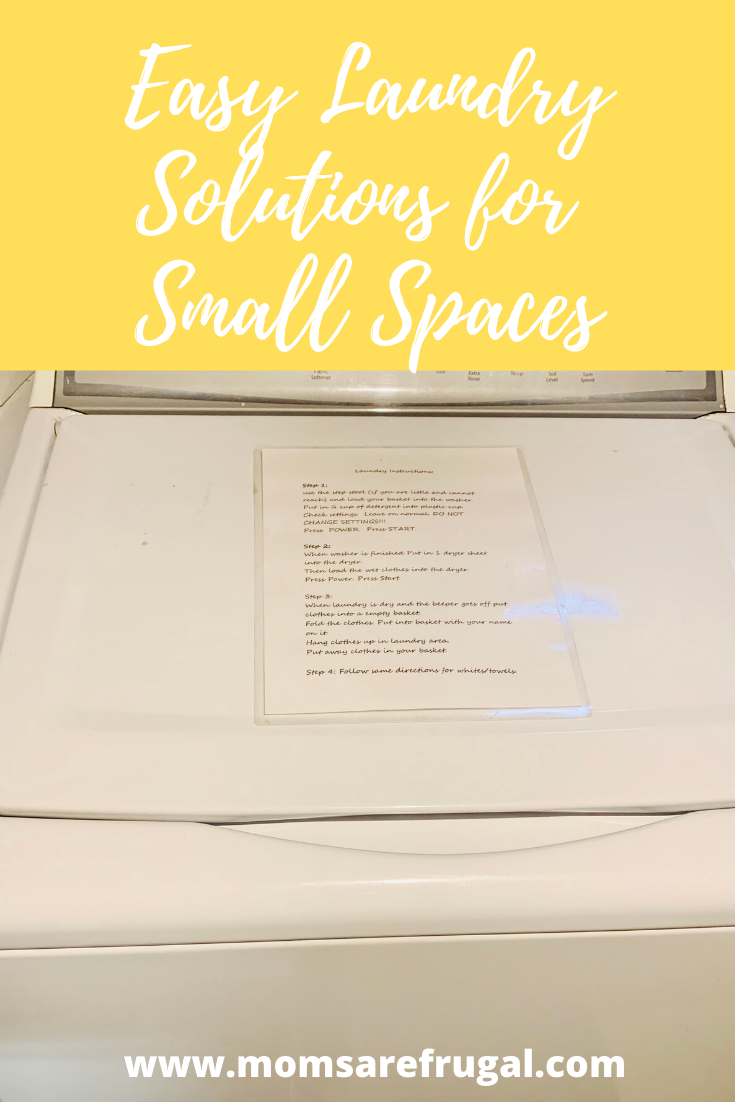 Create an Ironing Board Station
Having an ironing board space next to the laundry area allows for convenience and makes ironing easier.
Creating a usable space that is easily accessible will assist with ironing needs.
Ironing boards that are left out and the irons with cords that are in the way can actually cause the laundry area to be cluttered.
Setting up an organized space for ironing is one solution to small spaces.
Shelving for Small Spaces
Using shelving to organize detergents, cleaners, soap, bleach, stain removers and other stuff will get it off of the floor.
Having a designated spot for every thing will give the small space a cleaner look.
Clutter happens when what we use is piled in places with no home.
Shelving gives a home in small areas.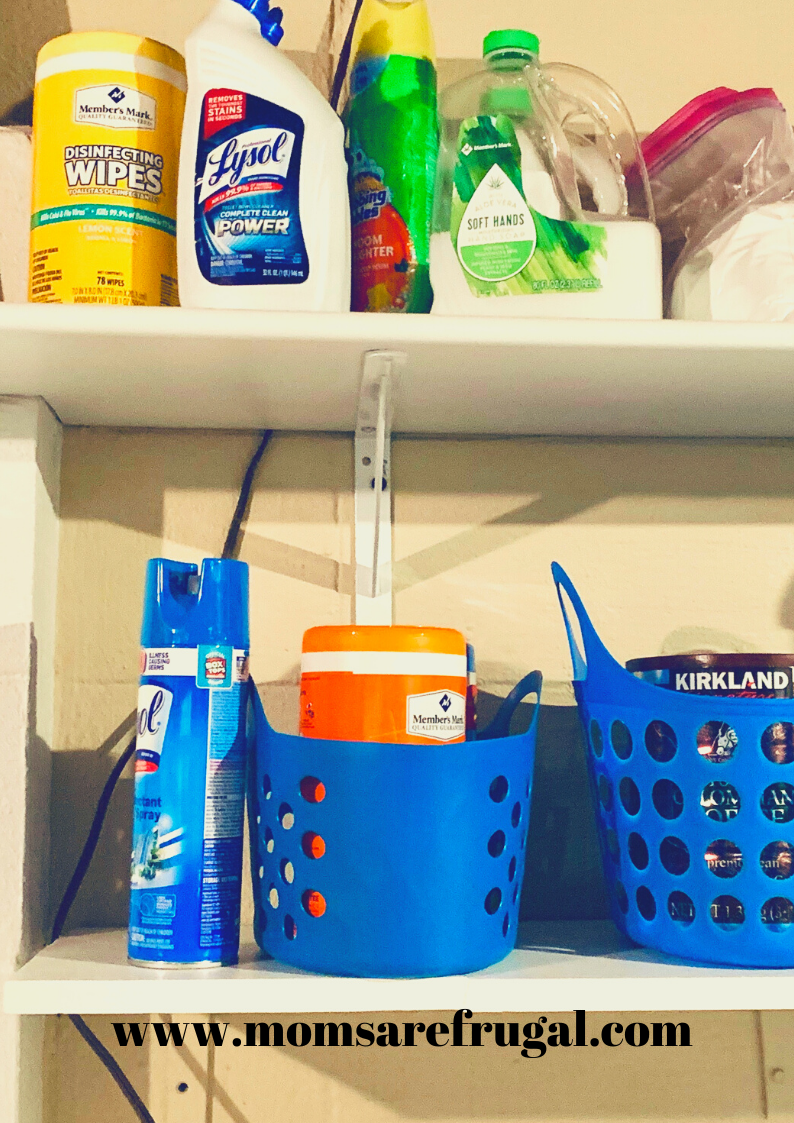 Folding Table with Storage Underneath
For our folding area and a more organized look in our home we have countertop.
The countertop is big enough to fold clothes, but does not jar up too much space.
Under the countertop we created storage areas for laundry baskets. Cat food, our portable cooker and a tray can.
The underneath bins are not large, but they help to get clutter off of the floor.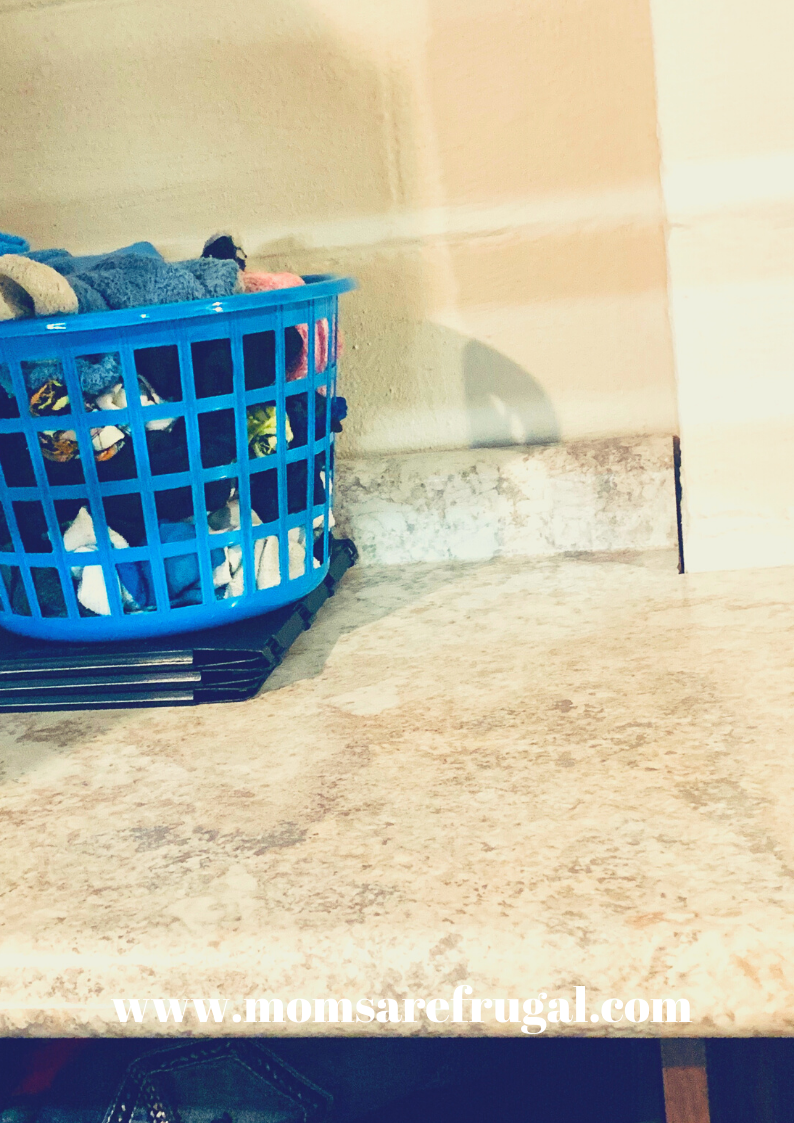 Laundry Solutions for Drying Areas
Drying areas are necessary for the sweaters that can't be dried. Nice shirts and special clothing that does not go in the dryer.
Finding a small space, on a wall or under a shelf for a pull down drying station will help with putting what is needed into a smaller laundry area.
Organizing Bins
Bins organize items that are kept on a shelf. Know exactly how many are needed, what size, and style will
Complete the new small space laundry area.
Before putting together any new room or space, an easy suggestion would be to draw it out. Brainstorming a rough draft to see an overall finished look will make the organizing part come together.
If you have a small laundry space, think about what is needed and how that space can be more functional.
For more of our frugal homeschooling and family activities follow me on Instagram @momsarefrugal.