Twenty years ago I had no idea that my future held four children, let alone four boys. Quick frugal home recipes are healthy for boys and fill their ever growing appetite. Holding a mix between healthy and filling is sometimes difficult. many foods out there are filling, but not necessarily healthy. Quick sandwich ideas and fruits do not fill up my boys' In about an hour they are hungry again.
My goal in putting together a lunch menu plan is to keep them full, but also healthy. Many hours of research on youtube and Pinterest helped me to pull together idea's and then tweak them. As with most idea's they should be adjusted to fit your family.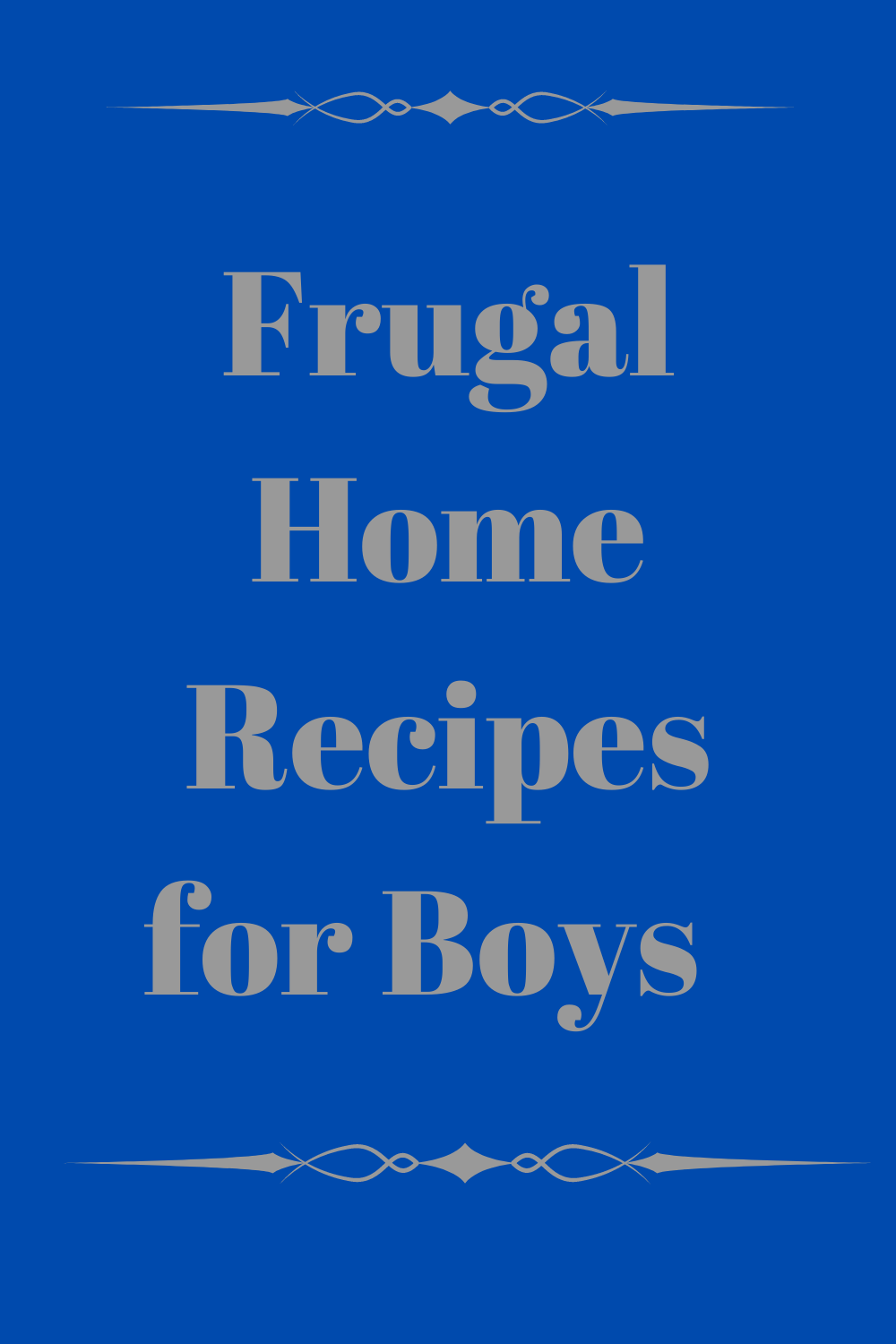 Easy Breakfast Recipes
Eggs are great for protein. Eggs are not expensive. Each morning I cook eggs for my boy, but with a twist. Since we have our own chickens the egg recipes are part of our everyday breakfast.
I will make egg burritos, scrambled eggs with salsa, scrambled eggs on toast with avocado, fried eggs with bacon, and finally egg sandwiches.
Lately I have also been making a large batch of eggs and serving them on the side with french toast, pancakes or waffles. Most of my breakfast recipes do not involve a lot of work or money. Frugal home breakfast recipes for boys that keep them filled up did not involve cereal. Cereal was great for a quick breakfast and cleanup, but an hour later they would be asking for snacks.
Easy Lunch Recipes
Peanut butter and jelly sandwiches are a favorite. We use either the uncrustables or the homemade. This is a staple in our frugal home.
Turkey burgers go well with carrot sticks. This is one of my go to recipes that delivers and healthy and filling in a meal. When I serve Turkey burgers the boys love them and ask for seconds.
Cheese quesadilla's or chicken quesadilla's are easy and inexpensive to make. My lunch schedule includes all of these each week. PBJ, Turkey burgers, and quesadilla's are one of the 7 regular lunch recipes that I plan.
Easy Dinner Recipes
Soups, casseroles, and meat are a main part of my dinner meals. I have a menu board at home and list weekly menu choices on the board. Here are three of the common dinner dishes we serve:
Taco's are a favorite. We usually have soft and hard taco's one night a week. Taco' s are an easy, quick frugal home recipe. The sides are healthy and I make enough for second's or third's.
In the winter, chili is good. I make a double batch so that we have leftovers. In my chili recipe I have added a few ingredients that I picked up from professional chili cooker's.
Sunday is my day to put a casserole or use my crockpot. It is so easy to throw a good meal like pot roast and veggies in the crockpot. I buy my pot roast large enough that I can use it for lunch sandwiches the next day or for beef manhattan at dinner. Both dishes are great fillers and fall into the quick frugal home recipe book for us.
Trying to manage growing boys and their appetites is a challenge. A big challenge for a mom trying to stay within a frugal home budget. Food choices have to include main items that will sustain them and are healthy. Cooking in double amount helps a lot so that they can have a hearty meal and not be hungry again in an hour.
Setting up a meal plan with some of these recipes may help keep your budget in check.